Looking for the best horse shipping boots?
Well, you've come to the right place and I know how much you want to ensure the safety of your horse.
My guide reviews my favorite options that I'm sure you'll love.
So, let's take a look.
Top Shipping Boots for Horses at a Glance
Don't have time? Check our comparison of top favorites!
8 Best Horse Shipping Boots Reviews
If you plan to trailer your horse, you want to protect them the best you can. I am like that too!
So, let's jump right in and take a look at my shipping boots top picks.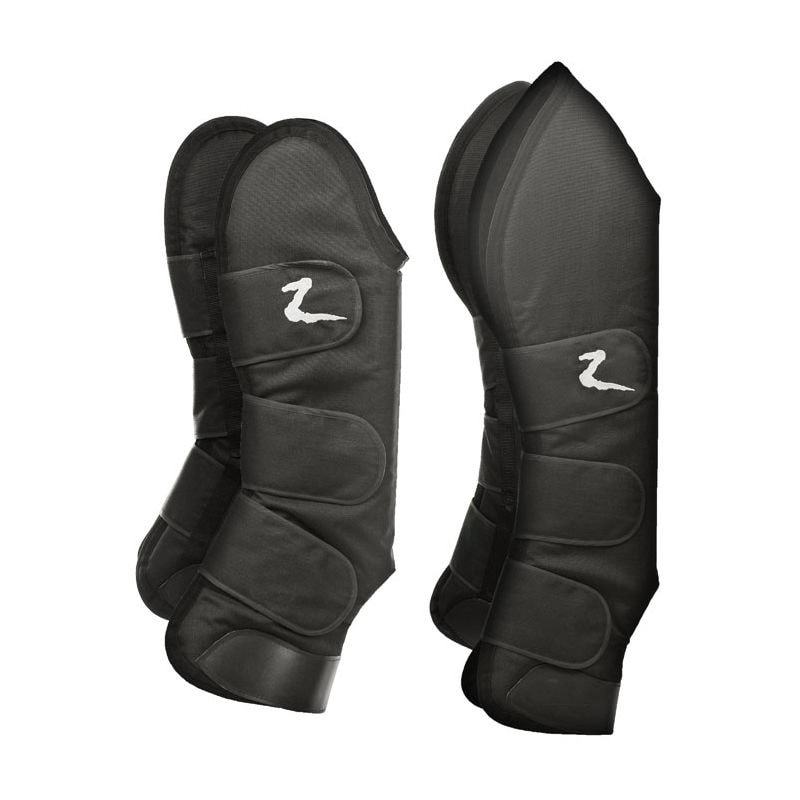 Horze Transport Boots are traditional in style. They are very like the first style of shipping boot that became available. That's why I like them.
If you're going to use shipping boots, I feel that a pair that has good cushioning and lots of coverage are best. The boots are tall and cover the hock and the knees with a nice amount of padding.
The wide velcro closures provide stability and are good at keeping the boots secure on your horse's legs.
The bottom area that covers the back of the hoof is reinforced with plastic material, reducing the chance of your horse injuring this vulnerable area while in the trailer.
They have a cozy fleece lining that will help prevent rubs. The stitching is strong and they should last you a long time. You can purchase these boots from a number of places including Equinavia and Amazon.
Features & Attributes
Velcro hook-and-loop closures
Fleece lining
Thick padding
Reinforced hoof area
Measurements
Horse size – 21.3 – 34.3 inches tall, 8.3 – 9.1 inches wide
Cob size – 17.1 – 30.3 inches tall, 7.2 – 8.3 inches wide
Pony size – 13.8 – 26.3 inches tall, 5.9 – 7.3 inches wide
Benefits Horze Transport Boots
Well padded
Great lower leg coverage
Protects hocks and knees
Multiple size options
Drawbacks Horze Transport Boots
Some horses might not like the amount of cover
Could slip a little when traveling
How it Compares to Others
These boots are traditional looking travel boots with high coverage and sturdy material compared to some options that might be more flimsy.
Expert Tips
Dr. Lisa Nesson DVM shows you the correct way to put on shipping boots in this video.
What Other Horse Parents Say About Horze Transport Boots
"I have owned a set of these boots for several years now and they still look brand new. My horse Rudy, must find them to be very comfortable because he will not load if I have forgotten to put his boots on! I am planning on buying another set for my new horse."
Check Latest Price



Horze Transport Boots — $144.99

Luxurious protective boots will cushion and protect your horse in the trailer. Fitted, thickly padded boots with hard plastic support in the back hoof area are a must-have for safe travel. You will enjoy peace of mind when your horse is protected from bum
Professional Equine shipping wraps come in a set of 4. What makes these a bit different from other options is that they have a neoprene exterior.
This adds some extra shock absorption, that you also see in the brand's sports boots.
They have cushioned, a soft fabric lining and sturdy velcro closures. These are a good option for horses that don't like boots over their hocks or knees. They still have excellent coverage and protect the fetlock.
Features & Attributes
Cushioned polyester lining
Two front and two hind boots
4 velcro wrap around closures
Come in turquoise, red, purple, and royal blue
Measurements
Medium horse size – 15 inches high & 12 ¼ inches wide front, 18 inches high & 13 ¼ inches wide hind
Benefits Professional Equine Horse Shipping Boots
Shock absorbing
Fetlock protection
Durable
Drawbacks Professional Equine Horse Shipping Boots
Can make the legs too hot
Might not fit very large horses well
No hock protection
How it Compares to Others
These boots have more shock-absorbing ability than many of the other options.
Expert Tips
Traveling your horse comes with risks. Not only the risk of injury, which shipping boots help reduce but also shipping fever. The experts at Cavalor tell some great tips for preventing this serious illness in this video.
What Other Horse Parents Say About Professional Equine Horse Shipping Boots
This user is a big fan – "Love them!! They have to be the best shipping boots I've purchased."
Professional Equine Horse Horse 4-Pack Leg Care Stable Shipping Neoprene Boot Wraps Turquoise 4108TR
Medium or Average Horse Size
Turquoise
These Professional Equine 4-Pack shock absorbing shipping boots offer complete protection for your horse during travel.
Made of a neoprene exterior and a soft polyester cushioned interior to keep your horse comfortable. Wrap around design protects and fully covers the entire lower leg, fetlocks, tendons and hoof area. Cushioning comes completely apart from the neoprene shell which makes cleaning easy. Machine washable.
Sizing: Front boot-Height:15", Width: 12-1/4" Back boot-Height:18", Width: 13-1/4"
What I love about these shipping wraps is that they are like the old-fashioned way to protect a horse's legs when in the horse trailer.
However, they are really easy to put on. Instead of ensuring you apply a bandage correctly, all you have to do is close the velcro straps.
You can buy these wraps at Horse.com and Amazon.
Features & Attributes
Hook and loop closures
Wide velcro straps
White pillow wrap interior
Black exterior
Machine washable
Measurements
32 inches long x 14 inches high
Benefits Gatsby Nylon Rapid-Horse Wraps
Great for horses that don't like a lot on their legs
Fast to put on
Soft and comfortable
Affordable price
Drawbacks Gatsby Nylon Rapid-Horse Wraps
Do not cover knees or hocks
No hoof protection
Only come in pairs
How it Compares to Others
These are a modern way to use standing wraps for shipping. Lots of people still like this type of leg protection, so they make a great alternative to the other taller styles.
Expert Tips
Before shipping boots were available most people used standing wraps for traveling. To protect the hoof stick on a pair of bell boots. I like the thick neoprene ones with wool or fleece lining for this job.
Sticking with the standing wrap option for shipping, I wanted to give you another great option. The Cashel Boomers are lovely and thick, providing good padding and protection for the vulnerable parts of your horse's leg.
Like the Gatsby wraps they are super easy to put on. They are also easier to wash than tall horse shipping boots.
You can purchase these shipping wraps for horses on Horse.com and Amazon.
Features & Attributes
Come in pairs
Thick pillow quilt
Elastic and velcro closure
Black outer and white inner
Measurements
Come in 12-inch or 14-inch heights
Benefits Cashel Boomers Combo Standing Wraps
Thick pillow wrap
Great padding for tendons
Can double as stall standing wraps
Drawbacks Cashel Boomers Combo Standing Wraps
Some find the velcro straps too long
Only protect the tendons & cannon bone area
How it Compares to Others Gatsby Nylon Rapid-Horse Wraps
Like the Gatsby option, these are in a standing wrap style. These are one of the thickest options in my guide.
Expert Tips
Check out this BHS instructor's tips for how to correctly fit and put on shipping boots.
What Other Horse Parents Say About Cashel Boomers Combo Standing Wraps
Equestrians really rate these – "Love these wraps! They stay on and don't slide down my horse's legs. They are very soft and so far are holding up well"
Cashel Bandage-Shipping Boots, Navy, 12-inch
Unique elastic with hook-and-loop closure system provides an adjustable yet non-binding ?t
Ideal for post workout, overnight stabling, shipping, turnout, or over liniment
Set of two
Made by Cashel
These are a great set of shipping boots for horses from Professional's Choice. They protect your horse from the upper hoof up to the top of the knees or over the hocks.
Features & Attributes
Leather Strike Patch
Set of 4
600 denier exterior
Foam Interior
Velcro closure
Measurements
Benefits Professional's Choice Shipping Boots
Easy to put on
Coronary band protection
Protect fetlocks, hocks, and knees
Drawbacks Professional's Choice Shipping Boots
Some users find them bulky
Too long for smaller horses
How it Compares to Others
These are similar to the Horze boots I talked about earlier. They have heavy-duty foam for protection, which makes them bulkier than some others.
Expert Tips
Horses sometimes have a big reaction to shipping boots because they feel strange on their legs. It is a good idea to give your horse some practice by putting them on a few times in their stall before using them for travel.
What Other Horse Parents Say About Professional's Choice Shipping Boots
"Great shipping boots" are what one user says. They go on to say "This is the second pair I bought because I was so impressed with the first set I got for my mare I wanted the exact same for my gelding for hauling."
Get it With:
You might recognize the name Weaver. They are well known for their quality western saddle pads. But they also make some great horse shipping boots.
They are made with durable 600 denier outer fabric and have a comfy fleece lining.
I like these boots because they aren't as fiddly to put on as some others. They have three extra wide velcro closure straps and have a leather strike plate on the bottom for extra protection.
You'll find the on Chewy, and Amazon.
Features & Attributes
Come in a set of 4
Hoof strike plate
Synthetic fleece liner
3 large hook and loop fasteners
Measurements
Come in small, medium, and large
Benefits Weaver Leather Shipping Boots
Good value
Full-length shipping boots
Comfortable
Durable
Drawbacks Weaver Leather Shipping Boots
Can slip down on some horses
Bit stiff
How it Compares to Others
These are really durable which is great for longevity, but this makes them stiffer than some of the others.
Expert Tips
Scarsdale Vets has some great tips for traveling your horse. "They recommend "Horses should be travelled in a well fitted head collar (ideally leather). Pressure halter and bridles should be removed once on the trailer."
They also recommend "Horses should be tied up to thin bailing twine or a release clip with a quick release knot." [1]
What Other Horse Parents Say About Weaver Leather Shipping Boots
"Five Stars – great fitting and good quaility."
These are great travel horse boots for the price. They are fleece lined and cover all the vulnerable areas of the lower legs.
The interior is nice and soft, so your horse will be comfortable and the outer material is water-resistant.
Features & Attributes
Fleece lining
5 sturdy velcro straps
420 denier nylon
Measurements
14 to 21 inches tall depending on size
Come in pony, cob, and full size
Benefits Saxon Travel Horse Boots
Great price
Protect the bulbs of the heels
Cover over the knees and hocks
Drawbacks Saxon Travel Horse Boots
Lots are straps make them fiddly
Could trap heat
How it Compares to Others
These are similar in style to the other full-length options but they are the best shipping boots for horses is you are on a smaller budget.
Expert Tips
It is important that your horse is hydrated before, during, and after shipping. This can get tricky with fussy horses. To combat this, vets advise:
"For horses that are hesitant to drink unfamiliar water, Kool Aid® or Gatorade® can be used to flavor the water. Horses should be introduced to any such flavoring agents well before travel so they have time to get accustomed to the taste." [2]
What Other Horse Parents Say About Saxon Travel Horse Boots
"Fabulous boots and fabulous price." "Good quality and fit really well" That's what two equestrians have to say about their boots.
I just have to include this set of trailering boots as I love Baker. You might recognize the name and distinctive material from their much-loved horse blankets.
The hallmark Baker print outer is made from super strong 1500D material. While the inside has thick fleece. The bottom of the boots has scuff plates to protect the heel and coronet band.
Plus they come in three sizes and would look super cute on a pony! These are really luxurious boots for horses!
Features & Attributes
1500D exterior
Sheepskin lining
12mm Foam middle layer
Measurements
17 to 28 inches tall depending on size
Come in pony, cob, and horse size
Benefits Baker Fleece Trailering Boot
Unique, stand out style
Extra strong exterior fabric
Good level of cushioning
Drawbacks Baker Fleece Trailering Boot
A little expensive
Might not fit all horses
For injuries standing wraps are great but you also might need a pair of the best soaking boots for horses.
What Role Do Horse Shipping Boots Play?
Shipping boots protect your horse's legs when they are inside a horse trailer or van.
No matter how well your horse travels, it is still at more risk of injury while in a moving trailer. Unexpected use of the breaks can jostle a horse and it is easy for it to step on itself.
This is where boots come in. While using protective boots doesn't guarantee your horse doesn't get it, they can help a great deal.
You can't be certain of road conditions when you set out. Turns, starting and stopping all force your horse to rebalance itself inside the trailer.
Shipping boots or standing wraps protect the parts of the leg that are the most vulnerable to injury. This includes the coronet band, heel bulbs, pastern, fetlock, tendons, cannon bone, knee, and hock.
I've personally seen shipping wraps save a horse's life. The divider fell while on the road and sliced the horse's leg open. Luckily the horse's lower leg was protected and the injury while bad was confined to the muscle of the upper leg.
If the wraps had not been on the lower legs and the divider sliced that area, the horse would in all likely hood had catastrophic injuries that meant the horse could not be saved.
Tips on Horse Shipping Boots
When using and deciding what shipping boots to purchase there are a few tips you can follow that will help you find the perfect pair.
Travel Experience
A horse that has had little to no travel experience should not have boots and go on a trailer for the first time together.
It takes time for a horse to get used to traveling in a trailer. Plus horses often kick when you first put wraps or boots on. It's not fair to expect them to handle two very stressful things at once.
Start with standing wrap type boots and work up to the full-length ones. Also, always put the boots on several times at home just in the stall so your horse gets used to how they feel.
Standing Wrap vs. Full Shipping Boot
Some people prefer full-length shipping boots and others prefer standing wraps. I'm a bit old fashioned and prefer pillow standing wraps.
However, standing wraps need to be put on correctly. When they are put on the right way you don't risk damaging tendons and they are less likely to slip down when traveling.
But full shipping boots do have more protection as they cover the whole lower legs. I recommend starting with a standing wrap that you can velcro on and moving up to the full boot.
This is because I find horses are more likely to kick with full boots on because they find them awkward to wear. So you want your horse used to leg protection first.
How To Choose The Best Shipping Boots For Horses?
When choosing the best shipping boots for horses there are only a couple of things you need to look at. In general, all boots are quite similar. It will come down to personal preferences and what your horse is most comfortable with.
In addition to travel boots, there are many types of boots you can use on horses. For western riding check out the BEST skid boots for reining.
Type of Material
The type of material is also something you need to consider when choosing a boot. Look for boots that use durable outer material and have thick foam or pillow wraps inside.
These will last the longest and provide the most protection.
Travel Time
How long your horse will be in the trailer will influence the type of protection you use. For long journeys, you want to use breathable horse boots.
While protecting your horse's legs is important, you also don't want them to overheat. Some boots have better breathability than others.
For short trips, any type of boot is ok but look consider shorter wraps with bell boots for longer journeys.
Shipping Boot Size
It is important that your shipping boot size is correct for your horse. If the boots are too big they will slip more, which can irritate your horse. An irritated horse won't travel as well.
Measure your horse's legs and choose a boot that is the most compatible.
FAQs
Should my horse wear boots on all four legs?
Ideally, your horse should wear shipping boots on all four legs to maximize protection. If your horse is getting used to the boots, start with just the front legs.
How can I help my horse adjust to wearing shipping boots?
To help your horse adjust to wearing shipping boots start with putting just the front ones on while they are in their stall and leaving them on for 5 minutes.
Do this every day, gradually increasing the time and adding in the hind boots.
Should I wrap my horse's legs for trailering?
It is a good idea to wrap your horse's legs for trailering to protect against unforeseen accidents. But keep journey time and temperature in mind, as you don't want to overheat the legs.
How long can you leave standing wraps on a horse?
Don't leave standing wraps on for more than 12 hours at a time. At that point always remove them for a couple of hours and redo them.
How should I boot my horses for long trips across the country?
Booting your horse for long trips is tricky and many people opt not to use them as they become loose and slip.
If you want to boot, the best way is to redo them every few hours. If you use a hauler they will often ask you to not use them as they can't fix them multiple times during the trip.
Can you ship a horse in standing wraps?
Yes, absolutely, you can use standing bandages. In fact, this is how it used to be done all the time. But only do it if you have the right type of wraps and can do it well. Never use a polo wrap as it is not sturdy enough and will slip or fall off.
Conclusion
I hope you found the best horse shipping boots in my guide. My goal was to review something for everyone and a wide choice of boots.
Providing your horse with maximum protection is so important. As you probably know, horses find all kinds of ways to hurt themselves!
Do you use protection on your horse's legs when trailering?
Resources
1. Travelling Your Horse [Internet]. Scarsdale Vets. [cited 2022 Jun 24]. Available from: https://www.scarsdalevets.com/article/travelling-your-horse
2. How to Keep Your Horse Healthy While Shipping | Vita Flex [Internet]. www.vitaflex.com. [cited 2022 Jun 24]. Available from: https://www.vitaflex.com/the-arena/travel/keeping-horses-healthy-while-shipping
Siun L
Siun is an all-around animal lover, with a passion for horses. She grew up in the United States, competing in the hunters, equitation, and jumpers. Now living in Ireland, she competes with her own showjumping horses. She is experienced in the care and training of horses, as well as teaching riding lessons. She loves to combine her love for horses with her work. When not working, Siun will be found at the stables, rain or shine.
Find her on FACEBOOK
Read her latest ARTICLES.
Learn more about HER