Looking for the best saddle pads for an older horse?
Check out my guide where I've put together some fantastic options to keep your older horse comfortable while you ride.
Let's get started!
This post contains affiliate links, and I will be compensated if you make a purchase after clicking on my links.
Also Check: Best Saddle Pad for Trail Riding
Top Favorite Saddle Pads for Older Horse at a Glance
Don't have time? Here is a quick comparison of our favorites!
Table could not be displayed.
7 of the Best Saddle Pads for Older Horses – Equestrian Review
As your horse gets older its back will change and often a dip or even a more pronounced sway will become visible. They also can lose body condition and muscle mass [1].
Dr. Lydia Gray DVM gives a great introduction to how the horse's body changes with age.
Because of these changes, it is often a good idea to look at the type of saddle pad you use and even change to one that is more suitable.
Here I've included some of my favorite older horse saddle pads to help you find the perfect one for you. Hopefully, it will help you filter through the many types of pads that can overwhelm you.
No products found.
If you ride western then your horse will thank you for this pad. In my opinion, despite the price, this is one of the best western saddle pads for older horses.
In addition to this particular OrthoRide, there are several varieties of the fantastic pad for different purposes.
The OrthoRide contains PORON-RXD which provides high shock absorption. The wither relief version is great for horses the need plenty of wither clearance.
The pads are a good choice for sensitive horses [2] or those with sore backs. The materials are some of the best at helping the horse stay comfortable with the weight of the saddle and rider.
OrthoRide pads are suitable for a variety of western riding activities, including roping, barrel racing, young horse training, and trail riding.
Physical Attributes
Lightweight
Flexible
Kidney shape inserts
Fleece underside
Poron XRD
Measurements
31 x 32 inches
Benefits of Southwestern Equine OrthoRide All Purpose Fleece Bottom Saddle Pad
| Benefits | Drawbacks |
| --- | --- |
| Thick and well padded | Not suitable for high withered horses |
| Suitable for a variety of western riding activities | Expensive |
| Works with a treeless saddle | |
| Durable | |
How it Compares to Others
This saddle pad is versatile and you can use it for relaxing horseback trail riding or work in the arena. It is expensive but for an older horse, you want to best for its comfort.
Expert Tips
Western tack experts, Steve and Brandon, go through different types of saddle pads and what to consider when choosing one for your horse in this helpful video.
No products found.
CHECK: Western Saddle Pad Fitting
No products found.
For English riders, take a look at this that comes with removable memory foam inserts. It's one of my favorite pads for English saddles. If you need an all-purpose saddle pad I recommend you take a look at this one.
Physical Attributes
Velcro memory foam pockets
Quilted cotton fabric
Memory foam pads
Velcro billet strap
Measurements
23 inches along the spine
20 inches from spine to the bottom edge
Benefits & Drawbacks of Derby Originals Extra Comfort All Purpose English Saddle Pad
| Benefits | DrawBacks |
| --- | --- |
| Great for sensitive skin | Replacement memory foam inserts not available |
| Ideal for older horses or those with back muscle loss | |
| Variety of color options | |
| Shock absorbing | |
How it Compares to Others
This is a great all-around English saddle pad for older horses. It is also suitable for any horse that has is just coming back into work and needs to develop muscle and cold backed horses.
It is one of the better prices options.
Expert Tips
Besides a comfortable saddle pad, the changes to an older horse's back can also mean the saddle itself needs adjusting and you encounter fit issues.
I found this video from expert saddle fitter, Ken Lyndon-Dykes, talking about older horse saddle fitting.
No products found.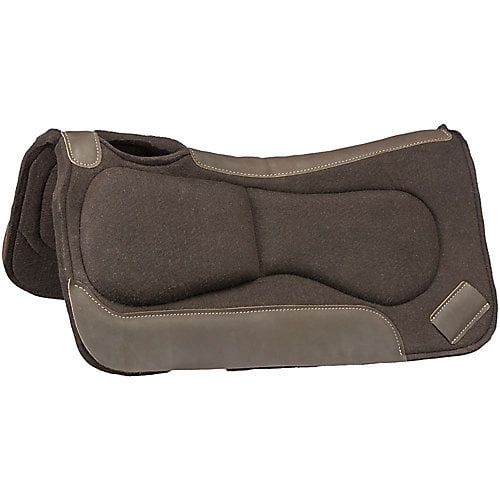 If your horse has high withers and needs extra support for the back, consider this western saddle pad.
Physical Attributes
Extra padding in the wither and shoulder area
¾ inch thickness on main areas
1 ¾ inch thickness in built-up area
Felt material
Measurements
Benefits & Drawbacks of Tough1 Contour Fit Build UP Felt Saddle Pad
| Benefits | Drawbacks |
| --- | --- |
| Suitable for high withers | The lower trim is plastic type material and not leather |
| Great for narrow shoulders | |
| Good price | |
How it Compares to Others
Since the main built up area of this pad is in the front it won't suit big shouldered horses as it could create too much pressure in that area. The first western saddle pad option will fit more horse body shapes.
MUST READ: Can You Use a Dressage Saddle Pad for Jumping?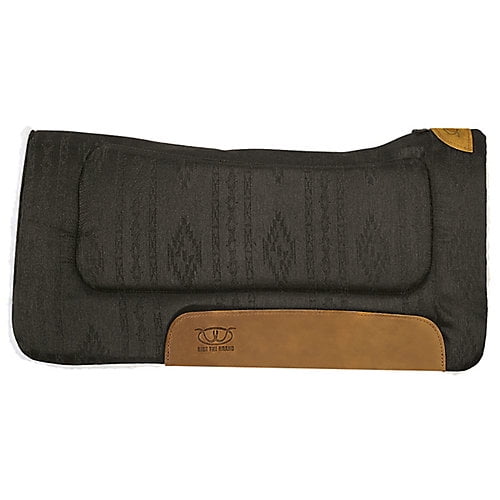 I love this durable, comfy western saddle pad. It has a well-cushioned, fleece bottom and fits a wide range of horses. For the price, it is good value and your older horse will love it.
Physical Attributes
Contour design
Maize fleece bottom
Leather trim
5 color options
Measurements
Benefits & Drawbacks of Weaver All Purpose Contour Aztec
| Benefits | Drawbacks |
| --- | --- |
| Easy to clean | A little long for a short backed horse |
| Great even cushioning | |
| Good wither clearance | |
| Decent price | |
How it Compares to Others
This pad is only suitable for western saddles. It is a good price for a quality pad at under $100.
While it isn't super cheap, you need to plan for a more expensive saddle pad when you want something suitable for an older horse.
Expert Tips
The experts at Weaver put together this great video on correctly fitting a saddle pad. Take a look.
No products found.
While I personally prefer English square saddle pads, many people like a more contoured look. I found this great contour saddle pad with memory foam inserts that is great for the older horse.
Physical Attributes
Contoured
4 Velcro closure memory foam pockets
Tons of fun colors
Memory foam inserts
Velcro billet straps
Cotton fabric
Measurements
22 inch spine
19.5 inch drop
Benefits & Drawbacks of ECP Correction All Purpose Contoured Saddle Pad
| Benefits | Drawbacks |
| --- | --- |
| Adjustable padding | Not the best quality memory foam |
| Great color choice | |
| Budget friendly | |
| Reduces pressure points | |
| Pocks allow you to add additional padding | |
How it Compares to Others
Compared to the others this is a more budget-friendly option for English saddle. It also suits endurance saddles.
Expert Tips
Since saddle fit is so important I thought I'd include another video from an expert saddle fitter who gives some great tips for equestrians with older horses.
No products found.
No products found.
I wish there was a pad like this for the English rider, it has everything you need in one piece and it is excellent for older horses. Unfortunately, only western riders have the pleasure of owning one of these beauties.
Physical Attributes
Internal gel layer
Wool material
Sturdy leather trim
3 color choices
Measurements
½, ¾ or 1 inch thick
30 x 30 inches
Benefits & Drawbacks of Impact Gel Classic Contour Pad
| Benefits | Drawbacks |
| --- | --- |
| 3 thickness options | Expensive |
| Even pressure distribution | |
| Durable | |
| Suits square and round back saddles | |
| Made in the USA | |
| Many happy horses without sore backs | |
ALSO CHECK: Saddle Pads for Horses with Sore Backs
How it Compares to Others
One of the more expensive higher-end options in my guide but worth it if you can stretch your budget. It comes in different thicknesses to suit your riding activity and horse's needs, which isn't always an option.
Expert Tips
What are the qualities that a top quality western saddle blanket has? Find out in this helpful video from an expert at NRS World.
No products found.
No products found.
I have a very similar pad to this one and find it great, plus LeMieux is loved by equestrians and it is one of the most popular saddle pad brands. If you ride in a jump saddle, you will love this one.
This pad is half lined with wool. Wool is one of the best saddle pad materials for moisture-wicking, pressure distribution, and cushioning.
It is much better than artificial fleece, which doesn't do a great job at the features I just mentioned.
Physical Attributes
Quilted cotton
Plush merino wool panels
Girth loops
Jumping saddle contour
Measurements
One size
Benefits & Drawbacks of LeMieux Lambskin Close Contact Jumping Square
| Benefits | Drawbacks |
| --- | --- |
| High-Quality wool underside | Expensive |
| Washes well | Great color choices but hard to find |
| Durable | |
| Good pressure relief | |
How it Compares to Others
This is one of the only plush wool lined options, which gives it something special. It is one of the more expensive pads.
Expert Tips
Even for older horses, you can do certain exercises to help strengthen their topline. It is not just about the topline muscles but also abdominal muscles.
"It's all about synergy between abdominal and deeper core muscles. They have to function synergistically with the back, with core dynamic stability" States bodywork expert Nicole Rombac.
Make sure to also check our list of the best half pad for shock absorption.
How to Choose a Saddle Pad
When choosing a saddle pad for older horses you need to consider some specifics. Saddle pad choices are certainly overwhelming with so much choice. To help you out I've provided you with an introduction here.
1. The Best Fit
When a horse loses condition along its back its withers and spine might become more prominent even if its weight is good.
Because of this, the fit needs extra care. A pad with extra cushion and one that is good at distributing weight is essential. You also want the pad to have more room along the spine so it doesn't put too much pressure on this area.
If your horse has high or developed more prominent withers, you need a pad that is designed for this body shape. These pads will have more room in the wither area.
2. What Material is it Made of
The material of your saddle pad is also important. A fabric that is gentle on the skin and wicks moisture well is a great place to start. Wool is an amazing saddle pad material as it is good at both of these and also excellent for even weight distribution
3. The Right Size
Make sure the saddle pad size not only suits your horse's shape but also adequately fits under your saddle. The correct size will extend beyond the back of the saddle by a couple of inches. This also goes for the length.
FAQs
I'm sure you have more questions. While I can't answer everything in one guide, I've covered some common ones below.
What is the best saddle pad for an older horse with high withers?
The best saddle pad for an older horse with high withers will have a design that provides more wither room and has extra cushioning to fill the gap between the horse and the saddle. They will also help absorb shock..
Are felt saddle pads good?
Felt saddle pads are very good and a hugely popular material. They provide good breathability, cushioning, and moisture control. It is a great material for all-around riding activities.
Is felt or wool saddle pad better?
Saying whether a felt or wool saddle pad is better is not straightforward. The best quality felt pads are made with wool. Of course, there are also merino wool pads that are more fluffy. Both types are the top materials for saddle pads.
Conclusion
Fitting a horse with a dip in its back is hard enough and adding into it the aches of age, it becomes more difficult. The most important things to remember are that your horse gets plenty of shock absorption, comfort, and correct fit.
Final Recommendation
I hope you found some great ideas to suit your horse where your ride western or English.
I love all the options included here but if I had to pick I'd go for the LeMieux for English saddles and the Southwestern OrthoRide for western since it is very versatile.
No products found.
References
1. AN253/AN253: Caring for the Older Horse: Common Problems and Solutions [Internet]. edis.ifas.ufl.edu. [cited 2022 Mar 3]. Available from: https://edis.ifas.ufl.edu/an253
2. Horse Diseases A-Z | The full list of horse Diseases | petMD [Internet]. Petmd.com. 2019. Available from: https://www.petmd.com/horse/conditions
Siun L
Siun is an all-around animal lover, with a passion for horses. She grew up in the United States, competing in the hunters, equitation, and jumpers. Now living in Ireland, she competes with her own showjumping horses. She is experienced in the care and training of horses, as well as teaching riding lessons. She loves to combine her love for horses with her work. When not working, Siun will be found at the stables, rain or shine.
Find her on FACEBOOK
Read her latest ARTICLES.
Learn more about HER