If you're looking for the best tendon boots for horses, I've got a great list for you!
This guide includes options for every budget and level of rider.
Whether you just want some protection for your horse riding around the farm, or want to look perfect in the show ring, you will find something here.
Let's take a look!
READ MORE: What Are Tendon Boots Used for?
This post contains affiliate links. We earn a commission if you make a purchase through our links, at no extra cost to you
Don't have time? Here is a quick comparison of our favorites!
10 Best Tendon Boots for Horses (Expert's Review)
If you want a high-class tendon boot that many of the world's top riders use this is one! They are certainly one of my favorites and I believe one of the best tendon boots for show jumping and the prevention of leg injuries.
While Veredus jumping boots are not the cheapest you'll find they integrate new technology and their boots can take a beating.
One of the downsides of using tendon boots is the potential for heat to build in the horse's legs, which is not good for the tendons and ligaments.
Veredus Carbon Gel boots have subtly placed air vents that allow some of the heat to escape without sacrificing the protection given.
The strike zone along the tendons has carbon fiber, which is one of the toughest materials for shielding against impact.
Inside contains lightweight EVA foam for extra shock absorption and comfort. This type of foam does not contain as much heat as other types of tendon boots liners, such as neoprene.
Veredus is the 'it' boot when it comes to showjumping and is one of the most respected around the world.
Physical Attributes
Two attachment straps with 3 holes for sizing
Rigid-PU™- Anatomic dual density shell
Carbon Fiber in strike zones
EVA foam lining
3D Ducted Mesh™ to prevent direct getting in through vents
Quantitative Measurements
Available in black or brown
Sizes are small, medium, or large
| Benefits | Drawbacks |
| --- | --- |
| Waterproof | Expensive |
| Lightweight | Some sizes are hard to find |
| Easy on and off | |
| Extra strong impact protection | |
| In fashion and great looking | |
How it Compares to Others and Why
Ok, these boots are expensive, and not every rider will need them. But regardless of the level of riding you do, these boots offer some of the best protection options on the market if you are jumping.
This is why I've chosen them as my winner. In addition, one of my favorite fun features of this boot is that they have a range that includes colors, such as blue, red, and even pink.
Expert Tips
With hook studs, and closure boots like these make sure to only use them on horses with similar-sized legs.
If you have a pair and they are normally used on a horse with light legs, using them on a horse with heavy legs will overstretch the elastic closure straps.
This will mean that they will no longer fit the thin-legged horse well enough.
Veredus Vento Carbon Gel Open Front Boots - Size:Medium Color:Brown
Features The Same Supreme Protection Of The Original Carbon Gel Boot
Fitting and performing open front boot for jumpers
Anatomic design main shell composed of semi-rigid polyurethane with the rear "x" strike plate of carbon fiber to provide extreme durability and protection after repeated strikes
Check out this video on how to put on tendon boots:
Kavallerie is another open-front tendon boots brand that I really like. This pair of boots is pretty cool and futuristic looking, so you won't lack style when you enter the show ring.
The soft lining is comfortable for the horse and helps prevent any rubbing. They are lightweight and include air vents, an important feature.
Physical Attributes
3 elastic strap for closure
Strike plates
Air vents
Breathable, soft lining
Quantitative Measurements
Available in black or white
Size medium – 8.6-inches tall
Size large – 9-inches tall
| Benefits | Drawbacks |
| --- | --- |
| Air vents | Not the cheapest |
| Extra strong strike plates | 3 closure straps |
| Lightweight boots | White color gets dirty fast |
| Good shock absorption | |
| Breathable | |
How it Compares to Others and Why
These are great boots, and I would be happy to have them in my horse gear collection. They contain modern shook absorbing liners which help reduce heat production on the legs.
Compared to Veredus, they are much cheaper and have many of the same great qualities to help keep your horse from a horse tendon injury. However, they are not the lowest price on my list.
Expert Tips
Sometimes 3 closure straps on tendon boots can cause some restriction over the front of the fetlock boot. This will depend on your horse's leg shape and length.
If choosing this type of boot, always check to make sure the bottom strap is comfortable for your horse.
Kavallerie Horse Tendon Boots Pro-K 3D Air-Mesh Horse Boots, Showjumping, Horse Jumping Boots, Lightweight with Breathable Soft Padding for Less Sweat and Rubs
🐴 SHOCK & IMPACT ABSORBENT. These professional choice open front boots protect your horse's tendons and ligaments from injuries while jumping and performing. It protects against strikes, leg damage and even comes with a soft lining to prevent rubbing and soreness.
🐴 COMFORTABLE AND LIGHTWEIGHT. Allows your horses to move without restriction. Made with a flexible and non-restrictive design, your horse can easily do high speed activities like show jumping and hunter jumpers.
🐴 ANTI-SLIP MATERIAL AND DESIGN. Stays put right where you need it! A double Velcro loopback system with fastening button lets you place and secure the tendon boots with ease. It won't slip or slide during fast-paced activities.
🐴 AIR-MESH MOISTURE WICKING MATERIAL. Kavallerie tendon boots for horses is made to keep your horse's legs sweat free. During extreme pressure and active movements, heat and stress build up; our front leg boots cushions the legs, absorbing moisture and eliminating heat accumulation.
🐴 90 – DAY MONEY BACK GUARANTEE. We love it when you and your horses are happy. So we're offering a 90-Day Money Back Guarantee if the boots won't work for your horse. Let us know what you think about the Kavallerie Pro-K Tendon boots. We would love to hear from you!
ESKADRON makes some of my favorite velcro closure open-front horse boots. These are very popular boots and you will find them in many barns around the world.
Unlike some velcro closure tendon boots, these provide protection but have a more flexible shell. This is more comfortable for the horse.
Physical Attributes
Two elastic, velcro closure straps
Neoprene lining
Open front
Quantitative Measurements
Available in black boots only
Includes an extra strap to keep velcro in place
| Benefits | Drawbacks |
| --- | --- |
| Flexible under the knee | Neoprene lining is not a cool as some of the other choices |
| Very easy to put on and take off | |
| Easy to clean | |
How it Compares to Others and Why
For velcro closure horse boots these are a little on the expensive side. However, the material of the protective shell is of better quality than the budget options.
Expert Tips
If your tendon boots get muddy from your ride, always rinse the mud off straight away and hang the boots up to dry. Doing this keeps them cleaner looking over the long term.
I just love LeMieux equestrian products including their protective boots. If you aren't jumping or you ride dressage these brushing boots are a super option. They have a cozy fleece lining that will prevent any rubs to the legs.
The inside of the brush boots has extra protection against horses that often brush their two front legs together when they move.
Physical Attributes
Wrap around the whole leg
Elasticated velcro closure
Faux fleece lining
6 color choices
Quantitative Measurements
Faux leather outer
Sizes medium and large
| Benefits | Drawbacks |
| --- | --- |
| Good quality brand | Do not provide enough protection for jumping |
| Cover the entire cannon bone | |
How it Compares to Others and Why
These brushing boots are more flexible and comfortable for the horse. However, they do not contain the hard strike pads that some of the others have.
This means that for some hard strikes that could happen the impact could have more of an effect.
These brushing boots are perfect for riding on flat, dressage horses, or turnout. Also, since these wrap around the leg, they are a decent option for light support boots for horses.
ALSO READ: Best Dressage Boots for Horses
Expert Tips
Many people use this boot or a similar style when turning out their horses. And for this, they are a great option.
However, be careful leaving any boots on a horse's legs for too long as it can generate too much heat.
LeMieux Fleece Lined Brushing Horse Boots - Protective Gear and Training Equipment - Equine Boots, Wraps & Accessories (White - Medium)
SUPPORTIVE - LeMieux horse boots provide unbelievable value, providing hardworking, long-lasting, and affordable support for your horse. These beautifully fitting brushing boots have a luxurious soft fleece lining and grained faux leather outer to this range their high quality finish.
BREATHABLE BOOTS - The ultra soft fleece lining prevents rubbing and evens out pressure. The boots support the horse's lower limbs, protecting against brushing knocks. This boot is ideal for schooling, turnout, warming up or riding almost anywhere!
FOR FRONT & HIND LEGS - Unique LeMieux diamond shaped top strap guarantees secure fit and durable PU materials means these boots wash superbly. These supersoft horse boots are suitable for use on front and hind legs and are sold pairs.
EASY CARE - LeMieux boots are easily machine washable at a low temperature with ordinary washing tablets or detergent. Simply ensure the horse boots have all velcro fastened and all clip straps are attached before washing and wash inside a wash bag for best results. Air dry only and protect from any heat source.
MATCHING SETS – Create your own signature look with color-matched sets of LeMieux equestrian accessories. The ideal gift for the horse lover in your life, our dressage, tack, and apparel options combine fashionable styling, high-quality designs, and superior materials.
If you're looking for inexpensive but good-quality boots to protect the suspensory ligament from knocks, I think this style from HORZE is a great choice. These boots will help reduce the risk of traumatic injuries.
Physical Attributes
Elastic straps
Hard outer shell
Quantitative Measurements
Wide variety size options from pony to extra large
Size height measurements – 6.69-inches to 9.84-inches
| Benefits | Drawbacks |
| --- | --- |
| Lots of size options | A thick neoprene lining causes more heat retention |
| Easy velcro closure | No air vents |
| Lightweight | |
| Won't absorb water | |
| Durable | |
How it Compares to Others and Why
Compared to some of the others, these boots come at a great price. They are not as fancy but have a simple, attractive look.
Expert Tips
If you are looking for boots for tendon injuries in horses, then these aren't the boots you want. You will want specialist styles, such as magnetic tendon boots for horses.
If you love the look of the hook strap Kavallerie boots above on this list but prefer the easier-to-use velcro straps, then I recommend taking a look at these.
These boots have many of the great features of the other pair of boots, such as air vents, but are easier to put on and cost a lot less.
Physical Attributes
Elastic strap
Velcro closure
Air vents
Anti-slip lining
Quantitative Measurements
Sizes are small, medium, and large
Come in black or white
| Benefits | Drawbacks |
| --- | --- |
| Air vents | Sizing is a bit off, so measure your horse to get the right size |
| Flexible | |
| Shock absorbing | |
How it Compares to Others and Why
The sturdy strike zone on the back of this boot is great for protection again hind leg blows. I love that these are affordable velcro closure option that includes air vents, which is hard to find.
Expert Tips
Tendon boots are for use on the front legs only. If you want hind leg protection look for fetlock boots.
Kavallerie Classic Tendon Boots, Impact-Absorbing Material, Breathable & Evenly Distribute Pressure, Protect Tendon and Ligaments, Anti-Slip, Anti- Sore and Moisture Repellant Show Jumping Boots
✅ BREATHABLE AND MICRO-PERFORATED BOOTS - Kavallerie Tendon Boots is specialized Nylon technology that protects your horse feet from strenuous activity with unique breathable structure.During workout and performance your horse legs suffer from heat stress build-up as it carry the rider's weight as well while doing high levels of movement, this boots prevents excessive perspiration.
✅ SHOCK ABSORBING AND IMPACT PROTECTION - Absorb impact and protects the fetlock and cannon bone from tension and injuries. The location of the tendons is prone bruising and brushing injuries as it is being hit by the hind legs during an extreme performance. This boot offers great support and shield from strikes and leg damage.
✅ LIGHTWEIGHT AND COMFORTABLE - Flexible and Non-Restrictive Kavallerie Tendon boots with an open front area which allows the horse to move freely on high-speed activities such as show jumping & hunter jumper.It is light, easy to carry and gives high-end comfort by absorbs concussion for leg muscle and bone protection.
✅ EASY TO WEAR AND SLIPPAGE PREVENTION - It ensures a secure fit with durable and elastic strap. It is though and can stretch and adjust to your horse leg size, it is built with quick and easy fastening button to increase security during horse movement.
✅ EASY MAINTENANCE - Easy Care Neoprene, just hose it off every after use than hand wash or machine wash at no more than 30° C. This horse boot is a combination of functionality and design worth adding to your tack collection. All Kavallerie products are subject to 90 Day Money Back Guarantee to ensure your satisfaction! Buy now and experience the Kavallerie protection!
Rome is another popular equestrian gear brand that you will come across. I love how they have made a standard, simple boots style more sporty with this choice.
This is a complete set of four boots, two fronts, and two for the hind fetlocks. It is a good value if you want a matching set.
Physical Attributes
Neoprene lining
Pvc outer shell
Elastic and velcro closure
Quantitative Measurements
Come in black, white, and blue
| Benefits | Drawbacks |
| --- | --- |
| Value for money | A little bit too stiff |
| Long-lasting | |
How it Compares to Others and Why
This is the only matching set on my list. Not all horses need hind boots, but it's nice to have them on hand.
Expert Tips
If you do use fetlock boots make sure not to put them on too tightly. They must be snug so they don't slip, but making them overly tight can cause the horse to give too big of a reaction when jumping.
This can potentially unseat a novice rider over a fence.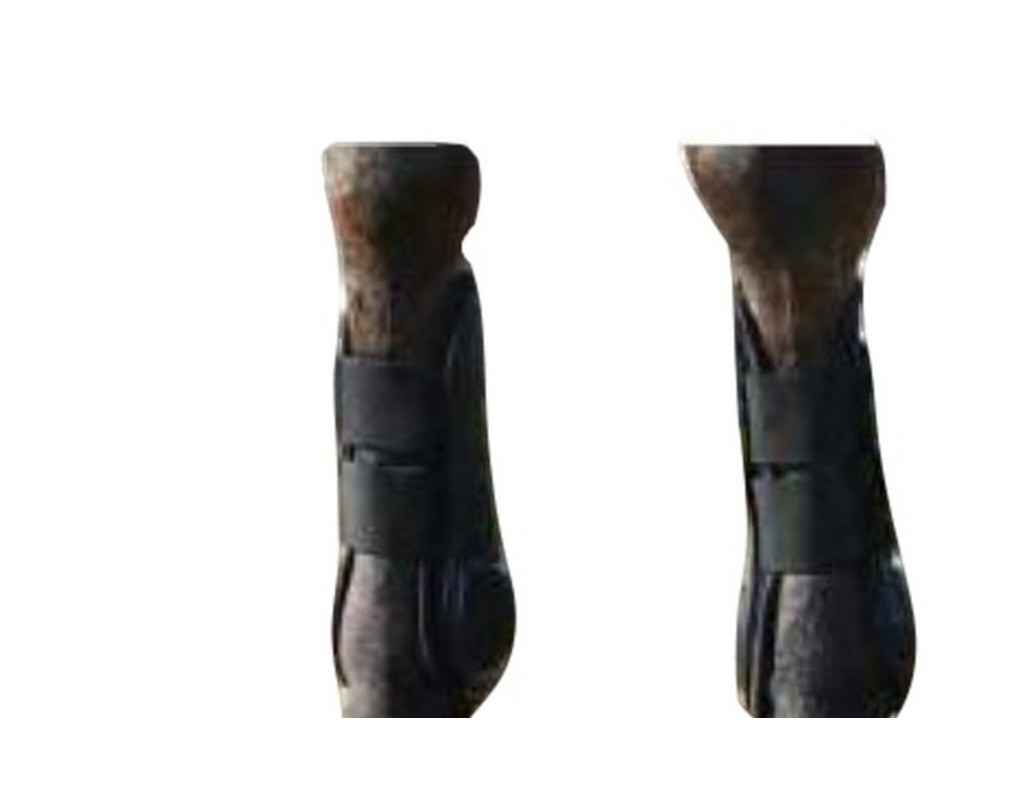 Professional's Choice makes a great range of boots for horses. These jumping boots are super cute and won't empty your bank account.
One feature I really like about this option is the brand's 'air bag' integration which helps increase protection from impact injuries.
Physical Attributes
Air vents
2 elastic straps
Velcro closure
Quantitative Measurements
Come in black
Height 12.5-inches
| Benefits | Drawbacks |
| --- | --- |
| Airbag integration helps dissipate shock | Lack of different sizes |
| Good price | |
How it Compares to Others and Why
Professional's Choice has been around for over 20 years and makes good quality products.
They are slightly more expensive than some of the other velcro closure options here but have added protection in the strike zone which makes it worthwhile.
Expert Tips
Horse tendon boots, such as these are not suitable as shipping boots. If you want to protect your horse's legs during transport, you will need travel boots or pillow wrap bandages.
ARMA is open-front boots from Shires, one of my go-to brands for great gear that comes at a reasonable price.
These boots fit great and offer good protection from injury. I've used this model myself and found them excellent quality.
Physical Attributes
Form-fitting
Elasticated fastenings and velcro
Soft neoprene lining
Quantitative Measurements
Come in black or black and green/plum/or pink
| Benefits | Drawbacks |
| --- | --- |
| Breathable lining | Don't have an extra strike pad |
| Good value | |
| Stylish | |
How it Compares to Others and Why
These are some of the sportier options of those that are more budget-friendly. I also love that you can get them in different colors, which makes them more fun!
Expert Tips
If you haven't used tendon boots before, make sure you learn how to put on boots, as doing it wrong can lead to rubs or even damage to the legs.
Shires Arma Tendon Boots Black/Black Pony
Shock Absorb: Flexible, impact resistant hard outer shell which deflects blows on contact
Flexible: Easy to wear materials allow for an easy fit whilst absorbing shocks and protect the tendons
Breathable: The dense, perforated neoprene lining offers great breathability
Form Fitting: Ergonomically shaped with smooth, rounded edges and recessed stitching for durability
Adjustable: Featuring double touch close fastenings with stretch inserts for comfort and security
I saved these amazing tendon boots for last. These are the ultimate jumping boots, but they are expensive. They include all the modern features you'd expect from Veredus. But these are lined with sheepskin.
OK, not real sheepskin but a special fake type that is very similar to the actual thing.
If you want to look your best in the showjumping rings these are the boots for you. I and many of my equestrian friends call these 'fluffy boots'.
Physical Attributes
Techno sheepskin
Elasticated straps and hook closure
Quantitative Measurements
Come in brown or black with cream fluff
Sizes small, medium, and large
| Benefits | Drawbacks |
| --- | --- |
| Super soft for sensitive skin | Expensive |
| Easy to clean and the fluff dries quickly | Not suitable for muddle conditions |
| Air vents | |
| Cruelty-free lining | |
| Carbon strike pad | |
How it Compares to Others and Why
These are more expensive than the others. They are also a little harder to keep in top condition due to the fluff. However, the very soft lining gives your horse lots of comfort and is great for sensitive skin.
Expert Tips
I suggest you save these boots for the show ring, that's what most experienced riders who have 'fluffy tendon boots' do.
How to Choose the Best Tendon Boots for Showjumping
Certain equestrian activities will require specific tendon boot styles. It is important to choose the right type, so your horse gets the right kind of protection
Open Front Boots
For showjumping, you want to use open-front boots. Carefulness is extremely important and you get faults if your horse knocks a pole down.
Open front boots mean the horse can feel the poles if it rubs them. Good showjumping horses will correct where they put their legs on the next jumps after this happens.
Look At The Tendon Boot Construction
The best tendon boots for show jumping have an extra-strong strike plate on the back, like the Veredus boots we've listed here. This is the most vulnerable part of the lower leg when a horse is jumping.
Jumping boots need to be ridged to withstand hard knocks and also absorb and dissipate shock. Brushing or splint boots do not offer enough protection for a jumping horse.
The boots also should be lightweight and cause as little interference with the leg and joints of the horse as possible.
Check out this quick video of the best ice boots for horses.
FAQs
Now that you've got a great list of tendon boots to choose from, you probably have a few questions. Let's try and find some answers.
What is the difference between brushing boots and tendon boots?
Brushing boots are softer and more flexible. They help horses that tend to brush the inside of their legs together. Tendon boots are rigid and offer a higher level of protection, especially to the rear and inside of the leg.
Are tendon boots good for horses?
Yes, most of the time. They reduce the risk of injury when a horse is moving, whether it be cantering, jumping, or even on a trail. The only thing you need to watch out for is heat build-up. This is why you leave tendon boots on for the shortest time possible.
How do you put tendon boots on a horse?
There is more to putting tendon boots on a horse than just closing the straps. I've put together a guide for you that will help you ensure you do this correctly and safely.
Conclusion
I know that finding tendon boots for your horse can make your head melt. There are tons of choices out there. Stick to reputable brands, such as those on my list, even if you are on a tight budget.
Some cheap offers will not provide as much protection as you think but I haven't included any of these. The affordable products here are all excellent brands.
Final Recommendation
For modern, sporty, and show ring level tendon boots the Veredus models are my winners. For everyday riding and something at a good price, I recommend the Shire ARMA boots.
What are your favorite tendon boots for horses? Please share your pick below1
Siun L
Siun is an all-around animal lover, with a passion for horses. She grew up in the United States, competing in the hunters, equitation, and jumpers. Now living in Ireland, she competes with her own showjumping horses. She is experienced in the care and training of horses, as well as teaching riding lessons. She loves to combine her love for horses with her work. When not working, Siun will be found at the stables, rain or shine.
Find her on FACEBOOK
Read her latest ARTICLES.
Learn more about HER