A friend of mine was keen on participating in English-style riding and needed the best winter riding breeches for the purpose.
She asked me to accompany her to the tack store to help her choose; after all, the sheer variety in breeches was certainly overwhelming.
The great thing about the experience was that I got to learn a lot in the process, and today, I will be sharing that knowledge with you!
Start with a quick look at my top picks of the best breeches brands, then read on for the full list and in-depth reviews.
Best Winter Riding Breeches Top Picks at a Glance
If you see the value in these products and choose to purchase via my referral links, I may earn a small commission at no extra cost to you.
Don't have time? Here is a quick comparison of our favorites!
Table could not be displayed.
READ MORE: Jodhpurs Vs. Breeches
9 Best Winter Riding Breeches for Horse Riding (Review)
Below, we will cover 9 of the best winter riding breeches – between my friends and me, we have personally used all of them.
No products found.
My friend selected these breeches from TuffRider because she loves this brand. TuffRider is indeed a reliable and popular name among us equestrians.
She also loved the fact that these warm breeches felt just like sweatpants – fleece-lined, comfy, and super-stretchy.
They eased her movements in the saddle – considering the fact that English riding requires a lot of movement – so the breeches have to be very flexible.
Features
Made with super-stretchy Spandex and warm fleece lining.
Zippered pockets
Available in 4 gorgeous colors and six sizes.
| Benefits | Drawbacks |
| --- | --- |
| Ideal for cold winter rides – keeps legs warm even in Alaskan winters. | The breeches piled after one wash |
| Drawstring at the waist keeps them in place. | |
How they compare
TuffRider equestrian products have been around for decades. So, there is no doubt about their quality.
These breeches are warm, thick, comfortable, and allow plenty of room for movement needed in horseback riding. They have plenty of size and color choices.
The only drawback is the pilling- but you can avoid it by hand-washing or dry-cleaning them. All in all: they're a great affordable pair of winter riding breeches under $75.
No products found.
Related: Best Summer Riding Breeches
No products found.
You need not stop riding when winter arrives. Kerrits has made these super-lightweight breeches just for the season.
They are lined with fleece, stretchy, and allow a lot of room for movement. And, in addition to their flexibility, they are warm and cozy too.
Features
Come with Kerrits signature hounds-tooth print
The extra wide 3" waist band allows greater comfort.
4-way stretchability – need we say more?
| Benefits | Drawbacks |
| --- | --- |
| Super comfy stretchy, flexible | The hip pocket is pretty useless |
| Very warm even in freezing Montana winters | These breeches do not really protect against wind chill. |
| Wash well | |
How they compare
The fleece-lined Spandex is reliable for peak winters. Kerrits is a reliable brand trusted by equestrians.
No products found.
No products found.
As the name suggests, Kerrits WindPro protects against rain and wind making it perfect for those wet winter riding sessions.
Features
Kerrits WindPro breeches feature a belt closure and Polartec Fabric
The knee patch offers flexibility and ease of movement.
| Benefits | Drawbacks |
| --- | --- |
| Perfect for riding in the winter months | The color might be different than that seen on the screen. |
| Well-designed breeches that sit well under riding boots | |
How they compare
As always, when you have a popular brand you know you can blindly trust their products. You can certainly rely on Kerrits WindPro Kneepatch breeches to keep you warm and comfortable and they are high-quality winter riding breeches under $100.
No products found.
No products found.
I love HORZE products – I have used their tall boots, cooling shirts, and stretchy gloves. My friend has a pair of their winter-special fleece-lined breeches and she raves about them all the time.
Features
Leather knee patches provide superior grip in the saddle.
Attractive colors and nearly 10 different sizes
Fleece lined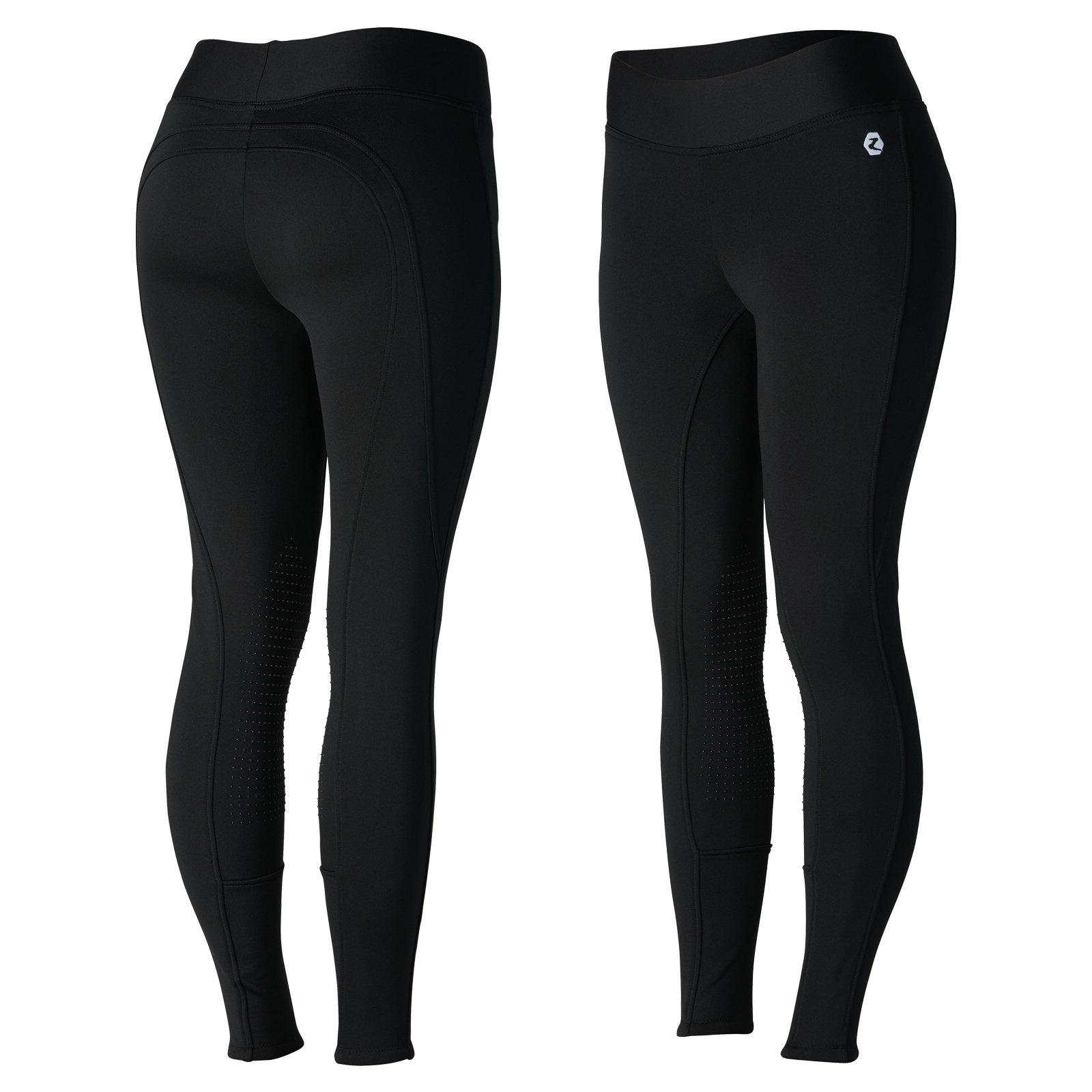 | Benefits | Drawbacks |
| --- | --- |
| Extremely warm | Pilled after washing |
| Can even be worn with thermal innerwear in minus wind-chill | |
How they compare
Price-wise these are very affordable winter breeches under $50.
They come in great colors, and are thoughtfully designed for the saddle, and are perfect for gifting too. All in all a wonderful offering from a well-loved brand.
No products found.
No products found.
We keep coming to TuffRider breeches, don't we? Well, when you have such a reliable brand, would you go anywhere else?
These breeches are warm although they are not lined with fleece. I'd recommend them for lighter winter months and their Spandex-polyester material combo makes them perfect for riding all year round.

Features
Shape retention PU-Spandex
Hook-loop closure
UltraGripp for superior comfort in the saddle.
| Benefits | Drawbacks |
| --- | --- |
| Available in attractive colors | High-waist style might look too baggy on petite riders. The waist almost reaches the lower seam of the bra – might be better suited for taller women. |
| Stretchy, warm, flattering, long-lasting. | Thick materials could prove too hot for peak summers |
| Value for money. | |
How they compare
Extremely well-constructed, warm, stretchy, winter riding breeches with zippered pockets to keep the keys. Very affordable breeches under $60 from a well-loved equestrian brand.
No products found.
No products found.
These Unisex best full seat breeches from Mountain Horse Polar are breathable, windproof, and waterproof.
Note that they aren't like the traditional 'britches' or 'riding tights' – rather they are insulated riding pants that can be worn over your regular thin breeches to enhance winter/rain protection.
Features
Fully seam-sealed and made with waterproof faux leather
Ergonomically designed seat for superior gripping
They come with snow gaiters to keep out snow.
Fleece lined pockets to keep hands warm instead of wearing bulky winter glove
| Benefits | Drawbacks |
| --- | --- |
| Extremely well-designed for winters and wet conditions. | Most users found them too long |
| Not noisy while riding, unlike other synthetic pants! | |
How they compare
Mountain Horse Polar unisex breeches might not look like traditional breeches but boy are they warm, cozy, and comfortable.
They are made for cold weather riding and will definitely offer you the protection you are looking for. Priced under $200 – go for these if you want long-lasting winter riding pants!
No products found.
No products found.
Experienced and beginner equestrians alike will love Ovation's Soft-flex classic, full-seat breeches.
The brand carries great products across disciplines including show jumping, dressage, schooling, etc. I have personally used Ovation's tall boots, helmets, and even their sulfate-free hair care products.
Features
Made in the USA with ultra soft, moisture-wicking Comfortex fabric
Stretch and shape retention cotton-spandex combination
| Benefits | Drawbacks |
| --- | --- |
| Comfortable | A few riders found them too wide in the waist area but their belt loops might be handy |
| Roomy pockets | |
| Value for money | |
How they compare
I am not sure if these are perfect for cold weather –especially if you have a major wind chill factor making it even more frigid.
They are not fleece-lined. They are great for the spring and early fall months. For breeches under $75, they do offer complete value for money.
No products found.
No products found.
B Vertigo's warm winter breeches will be your best friend for cold weather riding.
Features
Silicone full seat breeches offer superior grip.
Their thermal lining is a blessing for those riding in snowy areas
Available in two gorgeous colors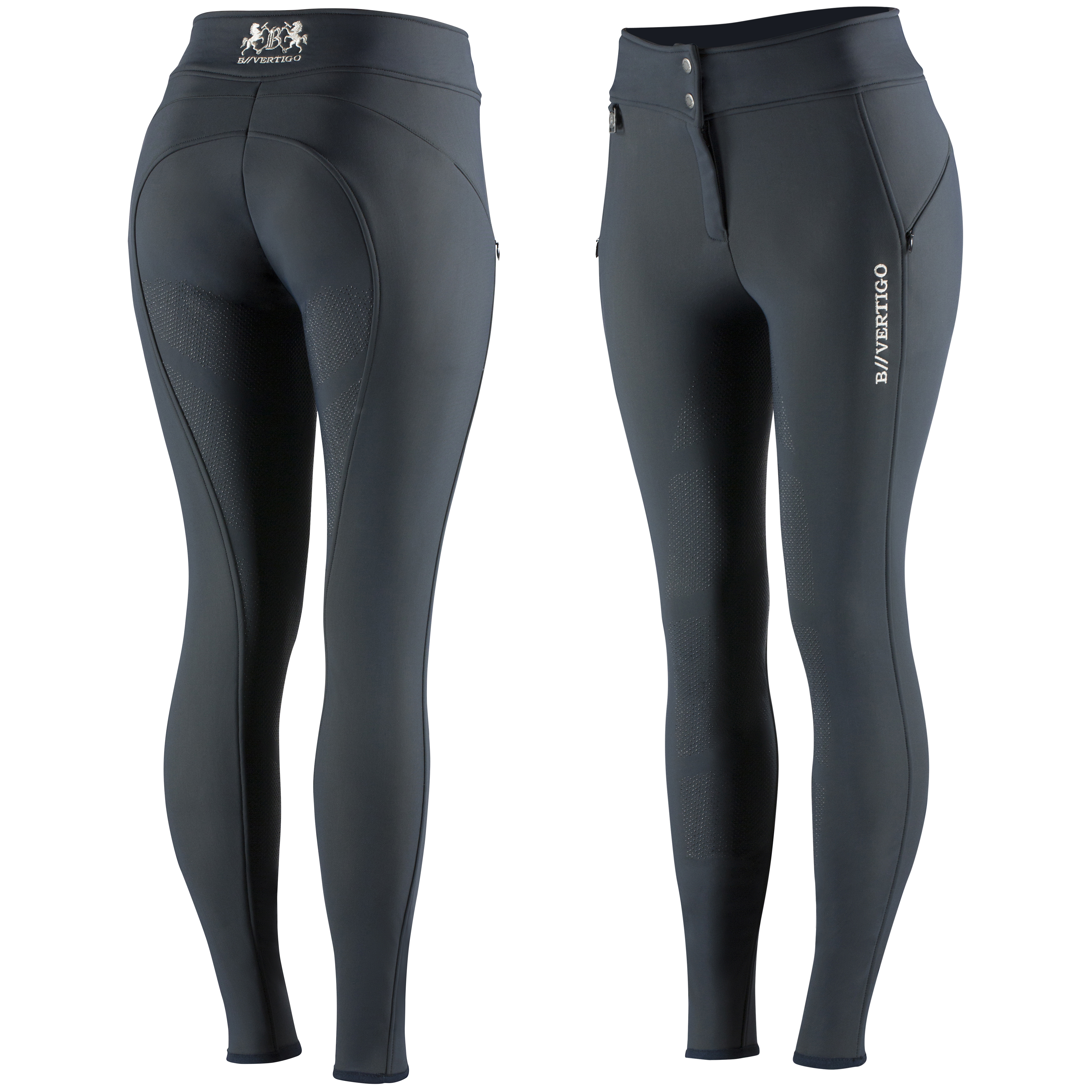 | Benefits | Drawbacks |
| --- | --- |
| High-waist feature flattens and flatters! | Expensive compared to other entries here |
| Not tight in the calf area, unlike most breeches | |
How they compare
Attractive colors? Check
Comfortable and easy-to-grip saddle ?– Check!
Warm breeches for cold weather riding?- Check
Flattering for full-figure ladies – Check!
Need we say more?
No products found.
No products found.
What are the key characteristics of breeches for cold weather riding? Well, firstly they should be warm.
Secondly, they should have a 4-way stretch and excellent memory and recovery of shape.
Thirdly, they should be flattering, form-fitting, and comfortable in and out of the saddle. Devon-Aire Pro classic breeches tick all these boxes.
Features
Dev-Tex® moisture-wicking, expanding, soft, comfortable material
Ribbed texture for superior saddle grip
No inside seam to prevent chaffing
| Benefits | Drawbacks |
| --- | --- |
| Excellent all-weather breeches for pairing with stylish winter boots | Actual products differ from the images |
| No bulky Velcro | |
| Soft, comfortable, warm, and moisture-wicking | |
How they compare
A few users complained about receiving different color breeches than ones shown online. However, most loved the fact that they are not low-rise which prevents that unsightly back-gap in the pants while riding.
These form-fitting breeches also prevent a muffin top. Their ribbed texture is perfect for gripping the saddle.
Also, the elastic in place of Velcro prevents bulkiness. In short: they are awesome cold winter days riding breeches under $60!
No products found.
FAQs
What are full seat breeches?
Full seat breeches offer a firm grip with the saddle and are recommended for Dressage. They come with a gripping material from the knee to the thigh area. The seat of the breeches is also 'stickier'.
What is the difference between jodhpurs and breeches?
The main difference is in their lengths. The jodhpurs are horse-riding trousers made with stretchy materials that extend down to the ankles often with a fastening to secure in the boots. The thighs are also flared in Jodhpurs for more comfort in the saddle. Breeches are shorter and skin-tight. They come with knee pads and inner linings for greater comfort and flexibility in riding. Breeches often have Velcro or elastic bands at the ankles for a snug fit.
Final Recommendation
If you are looking for breeches for winter riding, I recommend TuffRider UniFleece cozy winter Breeches as they are very warm, comfortable, and stylish too.
The brand is also popular and well-loved for its essential winter riding gear.
No products found.
Do check out other recommendations too!
References
Barker, Lauren. 2019. "What's the Difference between Breeches and Jodhpurs." R&R Country. Publisher name. January 10, 2019. https://randrcountry.co.uk/blogs/blog/the-difference-between-breeches-and-jodhpurs#:~:text=Jodhpurs%2C%20or%20'jods'%20as,from%20a%20comfortable%20stretchy%20fabric.&text=Breeches%20are%20shorter%20in%20length,bottom%2C%20or%20a%20Velcro%20fastening..
Barlow, Ashleigh. 2020. "Breeches, Jodhpurs & Riding Tights – What's the Difference? – Naylors Blog." Naylors Blog. January 20, 2020. https://www.naylors.com/blog/breeches-jodhpurs-riding-tights/.
What are your favorite winter riding breeches on the above list? Please share with us below!
Siun L
Siun is an all-around animal lover, with a passion for horses. She grew up in the United States, competing in the hunters, equitation, and jumpers. Now living in Ireland, she competes with her own showjumping horses. She is experienced in the care and training of horses, as well as teaching riding lessons. She loves to combine her love for horses with her work. When not working, Siun will be found at the stables, rain or shine.
Find her on FACEBOOK
Read her latest ARTICLES.
Learn more about HER