Looking for the best horse gifts for adults for holidays, birthdays, or even "just because" days?
Well, look no further!
I've compiled a list of gifts ideas that includes something for just about everyone passionate about horses.
Start with my favorites, then read on for the entire list!
ALSO CHECK: Horse Gift Ideas for Toddler
Horse Gifts for Adults Topics at a Glance
If you see the value in these products and choose to purchase via my referral links, I may earn a small commission at no extra cost to you.
Don't have time? Here is a quick comparison of our favorites!
The Best 25 Horse Gifts For Adults
The list I've put together below gives you ideas for gifts for any type of horse lover. It has presents for western or English horse riders and anyone that has admiration for horses.
Let's get started!
This is such a cool gift idea for the horse owner in your life! We all know how popular subscription boxes have become in the last couple of years. Now there is something just for equestrians.
Going out monthly, this box will contain tons of goodies from name brands, up-and-coming superstars, and even some homemade beauties.
Keep in mind that this box contains items most suitable for horse owners, so if your horse lover is just passionate without their own furry stead, then check out some of my other options on this list.
When you subscribe, you can choose the box tailored for English, western, trail riding, or miniature horse owners.
I saw it on Cratejoy



The Feisty Filly — $49.99

Discover the best sports subscription boxes for athletes and fans alike!
Check: Holiday Ornaments for Equestrians
Every horse rider knows how wonderful a riding helmet makes your hair look. We also learn to just not care. This equestrian baseball cap captures this horse rider struggle perfectly.
The cap is a worn look charcoal grey with embroidery stating 'Horse hair, don't care'. The style is finished off with two horse shoes. It's cute and fun and a great gift idea.
Sticking with the fun theme for another great horse gift for adults, you can't go wrong with this hoodie.
Equestrians are often underestimated in how tough they are. This hoodie expresses just how strong equestrians are in a fun way.
If your horse lover also enjoys wine, then you can't go wrong with this gift. It's also suitable for both men and women. This wine rack is constructed with horseshoes giving a lovely equestrian feel to the home.
A great idea would be to combine this gift with a bottle of your special person's favorite wine.
If winter is approaching a cozy pair of slippers always goes appreciated. These highly popular slippers are pink and decorated with horses wearing pajamas.
Yep, you read that right! Super cute. They are suitable for any type of occasion but would make a great stocking stuffer.
If your equestrian is like many people and can't go without their morning coffee this is a cute customizable gift. It's perfect for taking in the car on the way to work or when heading off to the barn.
The tumbler is made with stainless steel and is insulated to help keep hot drinks hot and cold drinks cold. It comes in 7 colors and has a horse head printed on the side.
You can customize it by the option to add your own text to the mug.
I love this pretty, delicate horse necklace. Anyone who loves horses, whether they ride or not will enjoy opening this present. It is nickel-free and will dress up any outfit.
It is suitable for any type of gift occasion, such as Christmas, Valentine's Day, birthdays, or graduations.
Horse jewelry is a pretty fail-safe gift for horse lovers.
Everyone who rides or looks after horses know how essential a good winter jack is.
It needs to be waterproof, warm, and durable for those early mornings at the barn. What I really like about this jack is that it has multilayers.
It has a fleece jacket on the inside and you can remove the outer jacket. This means you can wear it for multiple seasons, or shed a layer when you get too warm doing barn work.
The hood is also detachable, so you can safely ride in this jacket as well once you take the hood off.
This beautiful, sleek, black and white wall art features a grey horse. It is simple and elegant, so will look great on your equestrian's wall or in the tack room.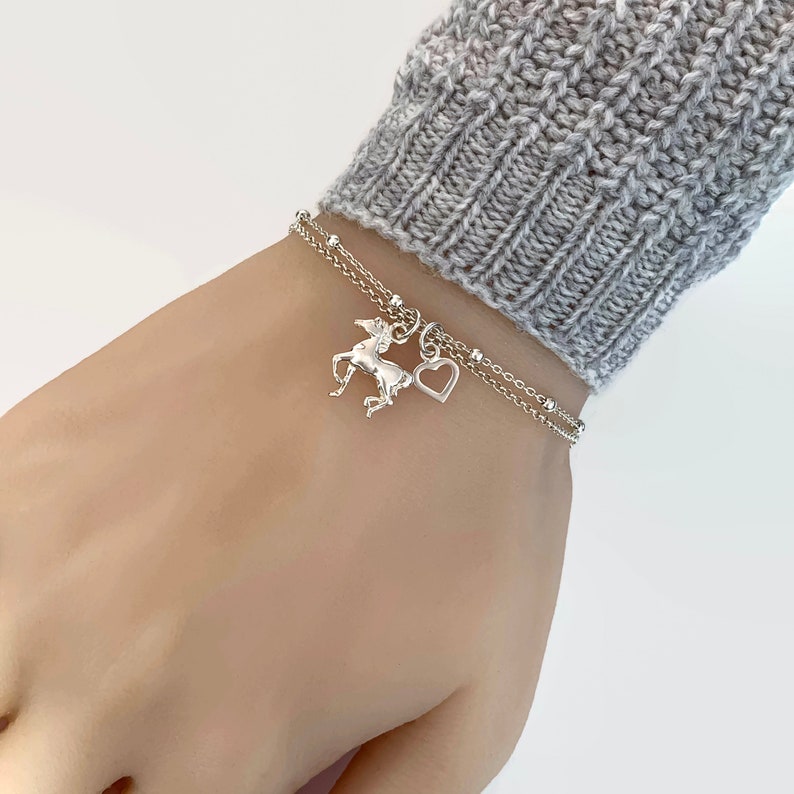 This is an elegant, simple horse bracelet that women and teen girls will love.
It comes with a galloping horse and heart charm as standard, but you can personalize it well. You can add an initial or birthstone charm if you want, creating a special keepsake for your loved one.
At first, the scent of this candle, 'Fresh Hay', might sound a little strange but it's a big hit with those that have received it as a gift.
Most equestrians love the smell of fresh hay. It brings about feelings of summertime and sunshine. The brand will even gift wrap the candle for you, so you will be all set for any occasion.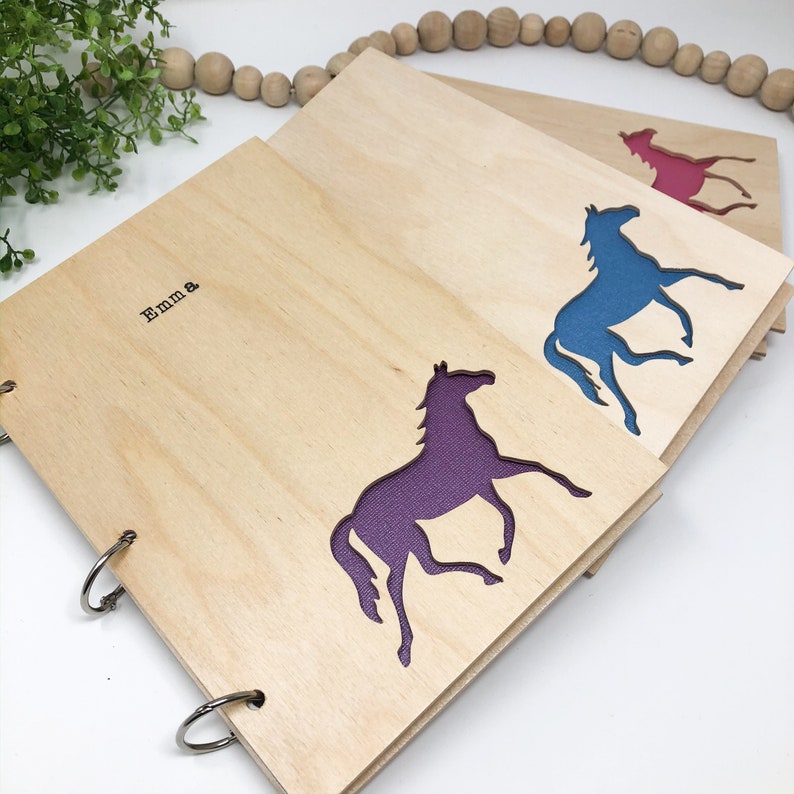 There are literally hundreds of cool notebooks available to choose from but this one stands out for having a unique structure.
The cover is made from wood and has rings you can open to refill it when you've used up all the paper. The pages are blank, so it's great for journaling, notes, lists, or sketching.
You can customize the notebook by requesting text that is added to the cover. The cover also has a horse cut out with a pink, purple or blue horse.
Horse riding is hard work and it is important to have suitable clothes for a time in the saddle. This pretty shirt, but the popular brand TuffRider is designed with equestrians in mind.
It comes in 7 colors, with aqua being my personal favorite. It is lightweight, ventilated, and comfortable, making it ideal for everyday riding.
When the days get chilly, horse lovers will definitely stick this on as they head out to the barn. It is wide, so there's no worry of the wearer's ears getting cold.
It comes in loads of different colors, so you could gift a couple or get one as a stocking stuffer.
Many horse loves have a passion for knowing everything they can about these majestic animals.
The fantastic book is filled with photos from award-winning photographer Steven Price and details the history of America's wild horses.
Horse people will definitely enjoy this well-researched book. It not only covers the evolution of the horse but how the horse has been connected to humans for centuries.
For equestrian book lovers, you could even combine this book with the previous one on the list.
Horse riders, particularly those that ride English wear knee-high socks. This is because they wear half-chaps or tall boots when riding and breeches stop above the ankle.
If you're looking for a horse gift, but aren't familiar with horses, this is pretty foolproof.
You have no fear of picking the wrong type of equestrian gear with these cute socks, that just about every rider will use.
If you want a gift to spoil your horse lover a pair of Dubarry boots will have the right effect!
Dubarry is famous for its country boots, which are particularly popular with equestrians. But you don't have to be a rider to enjoy how fabulous these boots are.
This is a beautiful set for that cowgirl in your life. It comes with a shoulder bag and a matching wallet. Both are made with real-looking vegan leather. The handbag has a pocket for a phone and two interior pouches.
This is a great everyday purse for horse lovers to show off their passion.
If you need horse gift ideas take a look at the cool makeup or toiletry bag. This handy bag has a picture of two galloping beautiful horses on the outside and is great for traveling.
Add even more fun to the gift by filling the bag with your recipient's favorite makeup items.
If are looking for classy horse gifts for adults, take a look at the elegant table lamp. It is perfect for adding a bit of equestrian flair to a horse lover's home without going over the top.
You can give this present for just about any occasion, such as housewarming gifts, Christmas, or birthdays. It is perfect for anyone with a passion for horses.
If you want to give personalized gifts, I love this idea. This metal sign is simple, rustic, and attractive. It will look great on the door of any horse-crazy person's house.
On the plus, for many people, this product is made in the USA.
Luckily, you will find no shortage of horse-themed gifts! The cozy fleece throw has a western feel and is perfect for chilly nights at home on the couch.
It is a beautiful gift for equestrians that want to curl up after a cold day in the barn or anyone who loves horses.
Soft, fleecy, and super cozy, you can't go wrong with this if you are looking for horse gifts for women. It is not childish but has a lovely western-style horse print.
Match this gift with a pair of slippers for those perfect lazy mornings.
This cute lantern light is for indoor or outdoor use. It's perfect for sitting on the patio on a hot summer evening. It has an old-fashioned look with horses circling the entire light and a faux candle inside.
How to Choose Gifts for an Adult Horse Lover
Thankfully, finding a gift an adult horse lover will like is pretty easy in one way because there is tons of choice. The hard part is sorting through all that choice for the perfect present.
Investigate the Horse Lover's Likes
To help you choose a present for someone who is passionate about horses do a little detective work. Find out if they like items for their home and love to be warm in the winter.
If you're unsure of sizes, try to ask someone close to the person if they can tell you what to get.
Alternatively, you can do a little bit of innocent snooping and look at the size when the recipient isn't paying attention.
Does the horse lover own their own four-legged friend? If so, this opens up your options even wider. You can get them something for their horse or riding clothes.
FAQs About Horse Gifts
If you have more questions about choosing gifts for horse lovers, I've included a few common ones here.
Final Recommendation
I saw it on Cratejoy



The Feisty Filly — $49.99

Discover the best sports subscription boxes for athletes and fans alike!
What are your favorite horse gifts for adults? Let us know in the comments below!