Looking for the best horse gifts for kids for holidays and birthdays?
I've got 25 great equestrian present ideas for all ages.
I promise you will find inspiration for your horse-crazy kid in this list!
Let's get started!
Horse Gifts for Kids Top Picks at a Glance
If you see the value in these products and choose to purchase via my referral links, I may earn a small commission at no extra cost to you.
Don't have time? Here is a quick comparison of our favorites!
Best 25 Horse Gifts for Kids
Anyone can have a love of horses not just riders. I've put together a gift idea list for all kids whether they have their own pony or not. I hope you like it!
If you're looking for a unique horse gift for kids this is it!
Monthly subscription boxes have been gaining popularity over the last few years. This horse subscription box is aimed at girls and every month brings a surprise.
I think this is a great idea for a special birthday as it is a little expensive since it is a monthly payment. However, that horse mad girl in your life will have fun gift surprises to look forward to every month.
This gift suits any girls that love horses, not just riders. It includes a variety of items, such as books, necklaces, bracelets, socks, belts, and horse toys.
It does sometimes include some items that only those who ride or spend time with horses would use, such as brushes.
However, you could consider coordinating this gift with riding lessons from another family member!
Check Latest Price



LaLa Horse — $39.95

Skip the awkward phase with our subscription boxes for tweens
Young children and teenagers will love to add this cool lamp to their bedroom. It is in the shape of a horse, using a flat acrylic panel that when lit gives a 3D optical illusion.
The lamp has several colors, all kid-safe and not dazzlingly bright.
For those who want to give kids a gift that is not only fun the encourages creative learning, I really like this option.
This toy comes with eight horses and a wooden barn. It has a handle so children can easily move it around. The kit comes with a horse breed guide, so kids can learn about the different types of horses.
The stable playset is suitable for boys and girls aged 3 and over.
Horse-Opoly is just like the classic family game Monopoly, just with a horsey twist. This is perfect for families and even members who aren't into horses will enjoy it.
Instead of buying properties, players buy horses and barns or increase value. You don't get sent to jail in this version, but you could get a bucking bronco landing you with a stiff farrier fee or have to spend time in the horse trailer.
The game is suitable for boys, girls, and families with kids aged 8 and older.
I can say without a doubt if I had received this when I was little, I would have used it constantly!  Suitable for horse-loving kids from the age of 4 to 9, this horse moves and bounced with its rider's action.
All About Horses is a cute book that teaches kids about different breeds of horses, horse care, and tack. It is nicely illustrated with an easy-to-follow structure.
It is perfect for kids ages 6 to 9 that just want to learn more about horses or have started riding lessons.
LEGO isn't what it was when I was a kid. It has developed so much and there are tons of really cool sets available today. This particular set is aimed at preschoolers and is a great gift for kids who love horses.
This horse gift for kids is suitable for any child with a love for these amazing animals. The boots come in tan faux leather with blue glitter patterns embedded in them.
They are unisex but will probably appeal to girls more than boys.
I love this gift for younger teens that don't really want toys as presents anymore. The main pendant is circular with a horse galloping cut out. It also comes with an initial charm, so you can give this horse gift a personal touch.
This is a pretty, simple, and classy horse necklace that is a grown-up type of gift for girls.
CHECK MORE: Personalized Horse Gifts
This adorable backpack will appeal to both girls and boys. Two different horse options are available. A pink backpack with different colored horses and tan with black, bay, and grey horses.
Kids who love horses can bring them everywhere with them. The backpack is great for carrying school supplies and has padded shoulder straps.
Ideal for girls who want more grown-up items without losing touch with their love of horses. The strap is adjustable and inside contains a zippered pocket.
Outside it is brown with stripes and stitched horseshoes, as well as a tan horse.
Who doesn't love a cozy fleece blanket to curl up in during the winter! This blanket is printed with galloping horses, perfect for equine loving kids.
One side is a plush fleece, while the other side is a soft flannel.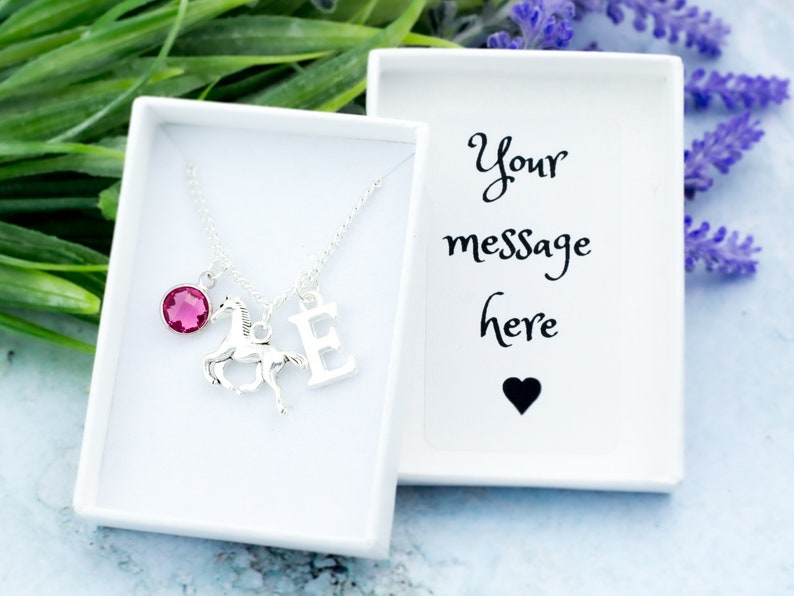 This is an adorable equestrian gift that is customizable, perfect for that personal touch! You can add to the galloping horse charm by including your birthday girl's birthstone and initial.
Not only that, you have the option of getting a message printed on the inside of the gift box. Horse lovers of all ages will certainly smile when they open this present.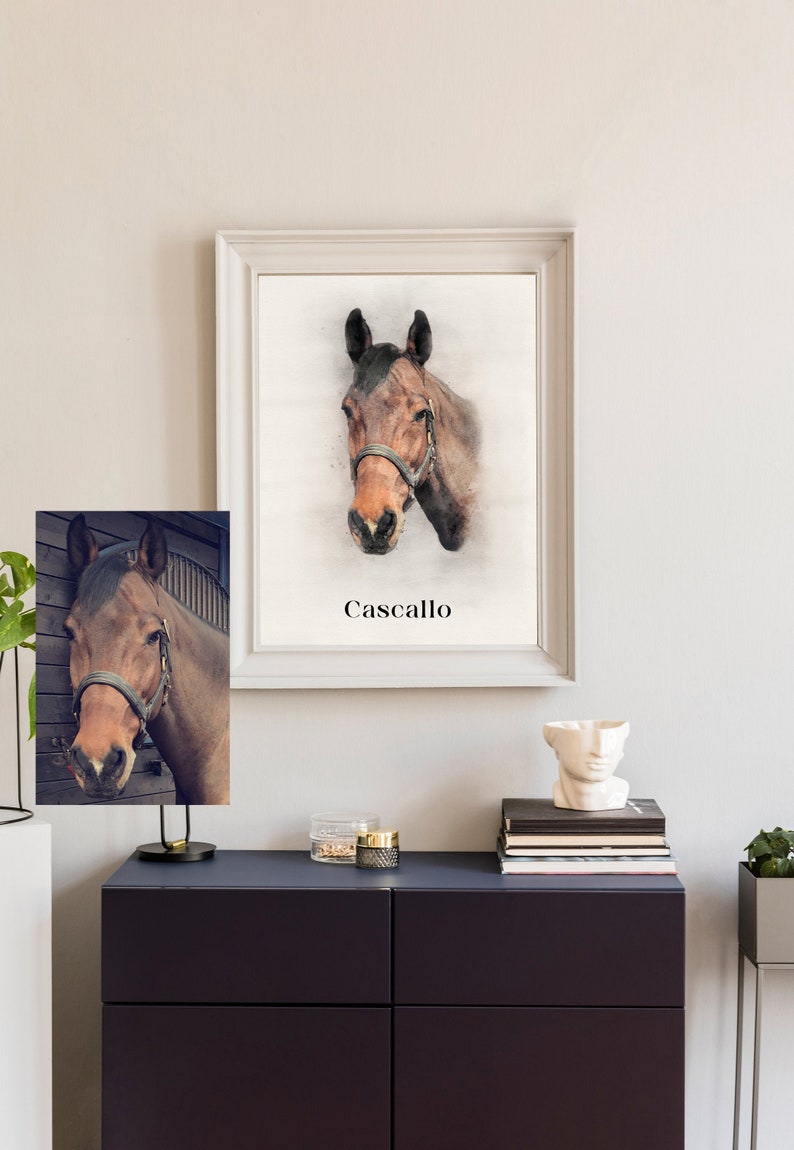 If the kid in your life has their own pony or has a favorite riding lesson horse, this is a fun, unique gift idea. You send it a photo of the horse and the artist will transform it into a watercolor digital image.
All you have to do is download the portrait and put it in a frame.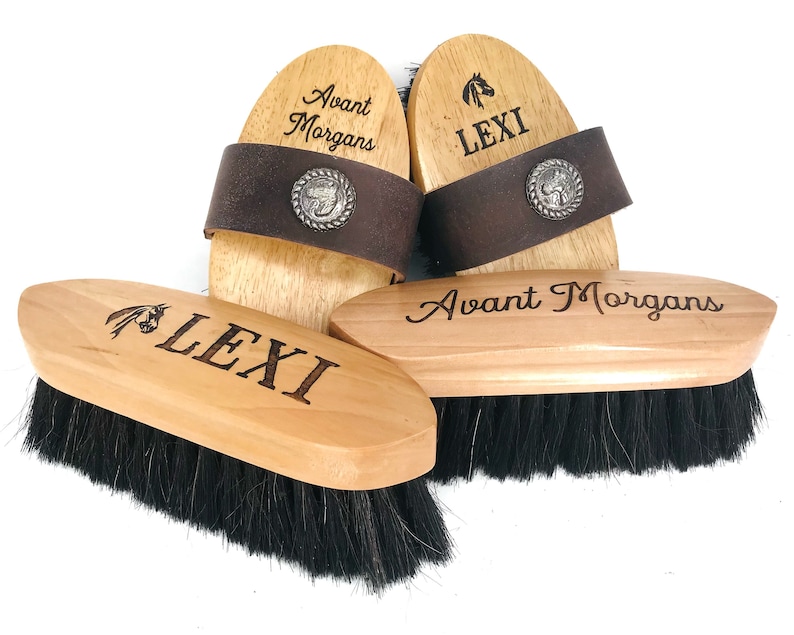 I love these! They are super cute and an unexpected gift idea. This gift is suitable for kids who have their own pony and need all the gear.
You can choose from sets of two to four horse grooming brushes and have them engraved with a name, quote, logo, or whatever you want.
Hanging around the barn can get chilly. Your horse kid will love this comfy hoodie that expresses their passion.
It comes in five different colors and is a great gift for any occasion.
Anyone that loves horses or knows children that do will be familiar with the famous Breyer model horses. Breyer has been making these toys for many years.
They cover all the different breeds and many of history's most famous horses.
Not only can you get the model horse, but you can also pick out some pretty cool Breyer accessories to go with your gift.
Growing up, these were my favorite toy and I'm sure things haven't changed much with today's horse-loving kids.
Who didn't love stickers as a kid? If you are looking for a small horse gift for kids, this is ideal for ages 4 to eight.
The book comes with tons of cool stickers and fun games. Those who've bought this gift have had nothing but approval from its horse enthusiast recipients. It is both fun and educational.
If your equestrian is a reader, check out this award-winning book for kids aged 9 to 12. Mary's Song is just one story in the book series Dream Horse Adventures.
You can make a bundle of the books or combine it with another horse-themed present.
Suitably sized so that kids can carry it, this cute horse printed bag is suitable for boys and girls. It's great for packing for a sleepover or carrying sports gear.
There are two options, one with a beige background color and one with a pink base.
I wish they made a music box like this when I was a kid. It's so pretty and young girls will love the color changes of the snow globe light, sparkles, and of course the horses!
What I really love about these cotton pajamas for kids is that they come with a matching pair for a doll. They are pink with a print of horses and horseshoes. Round off your cozy gift with some horse-themed slippers.
I'm back with another great LEGO set for creative kids that love horses and building. This set is for older children than the first on this list.
The set comes with a stable, horses, show jumps, and barn equipment right down to the brushes.
The age range this set is suitable for is 6 to 12. It is sure to provide hours of entertainment for horse-crazy kids.
For kids that love crafting why not let them combine that with their love of horses? This kit comes with loads of pieces, including a journal, stickers, and even a pink sparkly pen.
Aimed at girls aged 8 to 12 it will help encourage creativity and writing. Crafty horse girls will love this!
If you know what horse mad kids are like, then you know that they want horses everywhere. This includes their bedroom.
There are loads of cool and adorable bed sets with horses on them, with styles varying to suit different ages.
This particular set had different colored horses and pink hearts. It's super cute and will appeal to younger kids and teens.
How to Choose Horse Gifts for Kids
Believe it or not, picking out a gift for kids that love horses is pretty easy as there are so many options. To find the perfect gifts just take a few considerations on board before making a decision.
Know Your Horse Crazy Kid
By this I mean to find out a little about the child you need a gift for. How old are they? You want to make sure the present is age-appropriate.
Does the kid have their own horse? If so, you can include horse riding equipment in your list of options.
FAQs
Final Recommendation
You can't go wrong with Lala Horse subscription box!
I saw it on Cratejoy



LaLa Horse — $39.95

Skip the awkward phase with our subscription boxes for tweens
What are your favorite horse gifts for kids on the above list? Let us know below!