Valentine's Day is all about showing someone you love them.
Horse lovers are no different and I've got some fantastic gift ideas to give you inspiration!
Whether you want something traditional like jewelry or like unique and quirky, I've found it for you!
Let's get stuck in!
Valentine Gift Ideas for Horse Lovers Top Picks at a Glance
If you see the value in these products and choose to purchase via my referral links, I may earn a small commission at no extra cost to you.
Don't have time? Here is a quick comparison of our favorites!
Check: Beautiful Custom Horse Ornaments
23 Valentine's Day Gifts For Horse Lovers
Looking for a great way to show how much you love someone and while acknowledging their love for horses? This horse pendant necklace is perfect.
Teens and women will love this super cute surprise on Valentine's day. The pendant is a heart with a woman and horse in the center. The heart is engraved with 'I love you, always and forever.'
This bracelet is beautiful and combines the recipient's love for horses with your love for them. Ideal for women who can't live without horses in their life. It contains an infinity knot with horses at its center and a red heart in the middle.
Not everyone wears jewelry so finding Valentine's gift for them is more challenging. Add in their love for horses and choosing that best horse gifts gets tricky.
How about these pretty wind chimes featuring horses! Every time they chime you are reminded of love and horses.
If your horse lover likes practical gifts, then they will love this hoodie that they can wear out and about or at the barn. It comes in several fun colors and is super cozy.
This is another super simple and pretty necklace. Enclosed in a heart are a horse head and a girl. The heart has sparkly stones on the bottom and there are several color choices.
The price is good making a great horsey Valentine's gift for your daughter or niece.
A delicate silver charm bracelet that you can customize with the initial of your loved one. It also contains a horse, horse show, and heart charm.
Does the special woman in your life love horses and coffee? If yes, then this is a great fun Valentine's gift for them. It has a leak-proof lid, making it perfect for taking coffee on the road.
The outside is printed with: 'Horses Keep Me Stable' and a horse. It comes in rose, white and teal.
I really love this pretty horse journal. It is a full gift set that includes four different color pens, a cute cotton pouch, and it ties together with a little horse charm. It is a particularly great horse gift idea for teens.
In my opinion, you can never have enough cute t-shirts. This is perfect for Valentine's Day. The is printed with red horses and hearts. It comes in black, navy, grey, and white. The grey one is my personal favorite.
I love this cool twist on a picture frame. It is a clear, rectangular block that acts like a snow globe. Inside are tons of tiny little red hearts that float about if you shake it.
For Valentine's Day, for your horse lover, put in a photo of their favorite horse.
I know, I would love to receive this for Valentine's Day, even more than jewelry. It is highly likely that your equestrian would love this too if they have their own horse.
OK, you might not want to admit it, but you aren't alone if you want to get your horse its own Valentine's gift. I know, like you, horses love treats! Mrs. Pastures Horse Cookies is highly popular, so you know that it has plenty of four-legged friends that approve.
Make sure to use horse treats carefully. Robin L. Foster, PhD, CAAB, horse behavior consultant says that they can reinforce behavior, good or bad! [1]
Customize this beautiful journal with a personal message to express your love. It comes with a horse head or a horse with a western saddle. You can then order to add your own custom message.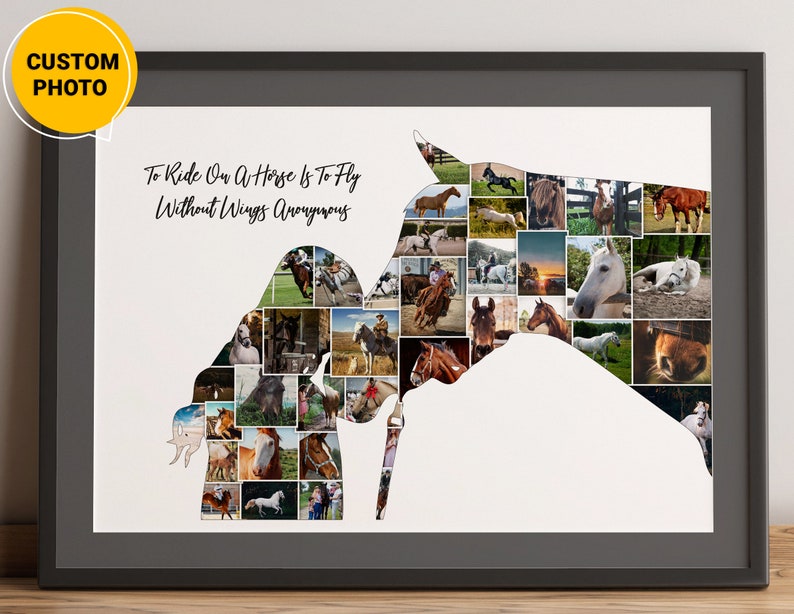 This cool gift is perfect for Valentine's Day. You have the choice of different types of frames. Pick the one your think your loved one will like the most and submit a selection of their horse photos.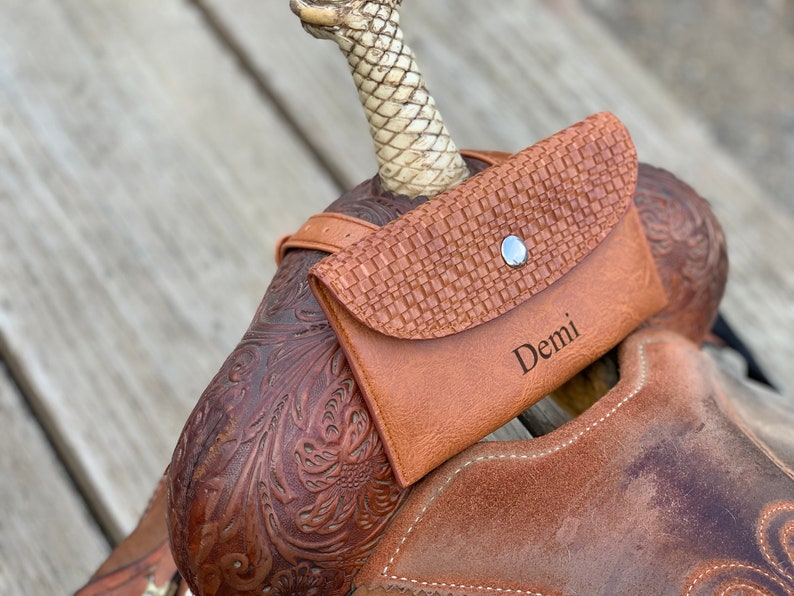 I love how unique this gift is. You don't see many ideas like this. The bag is designed to fit on a western saddle. It holds your cell phone, so you don't have to worry about losing it when out riding.
Customize the saddle bag with your loved one's name or a short phrase.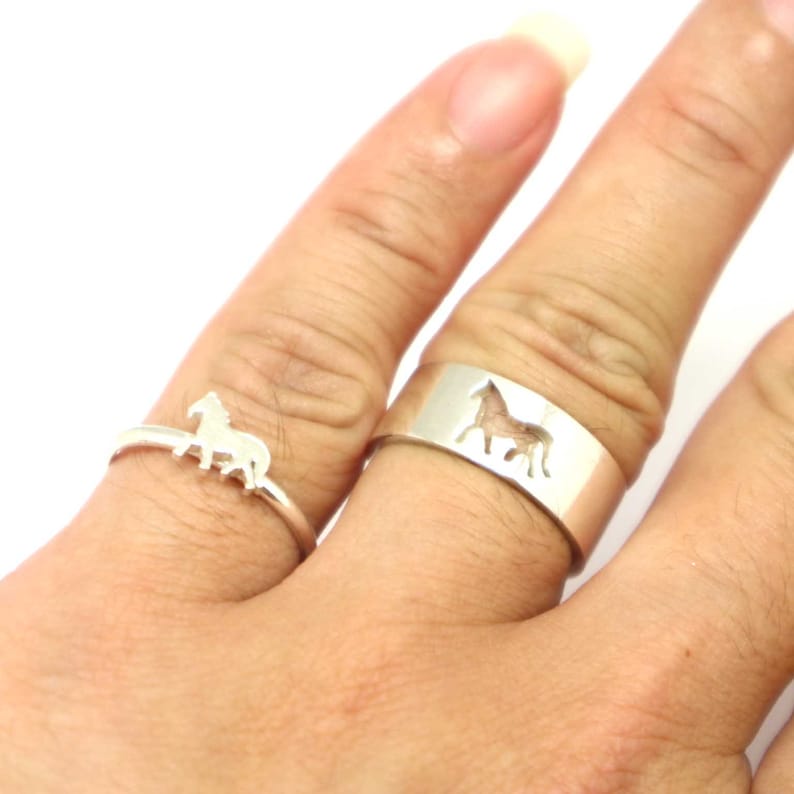 This is just so cute. It is a ring set that has a thinner ring that fits inside the wider one. It is great as a way to show your love, as a promise ring or even a unique engagement ring.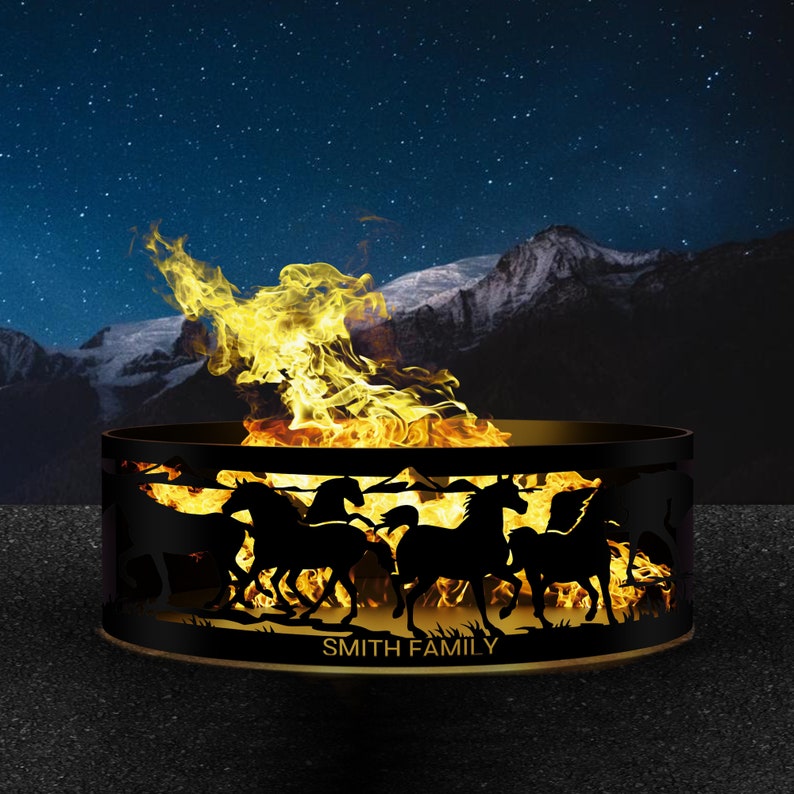 How cool is this! What a great unique gift for your horse lover on Valentine's day. It comes in two different horse designs and you can customize it as well!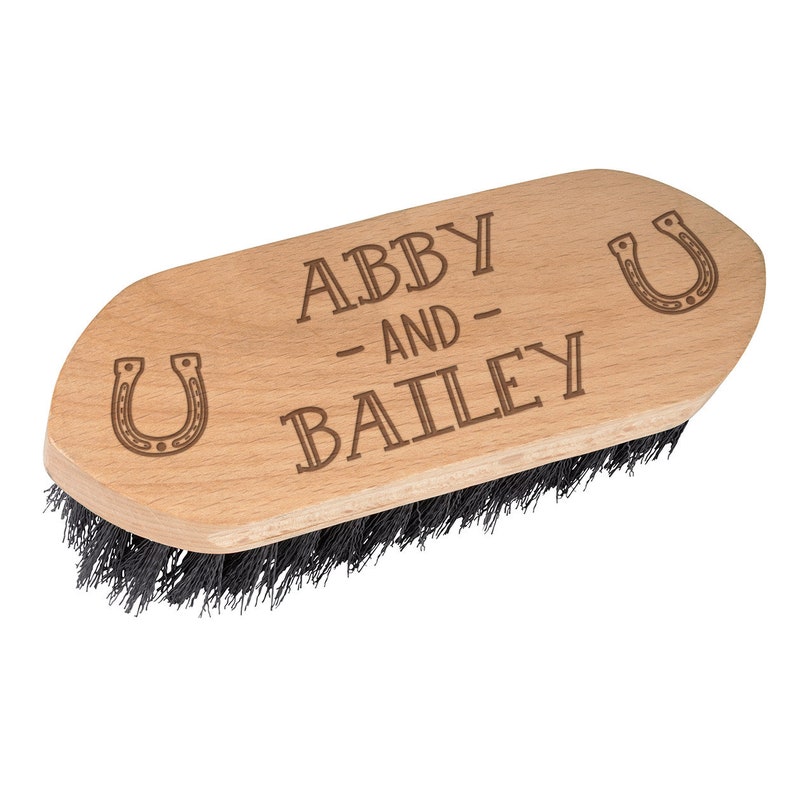 If you want a gift that your know your horse lovers will love what about a personalized horse brush? Customize with whatever words you want to be engraved on the wooden back.
Ideal for someone that has their own horse. A dandy brush is the most commonly used grooming tool for horses. Learn how it is used here: [2]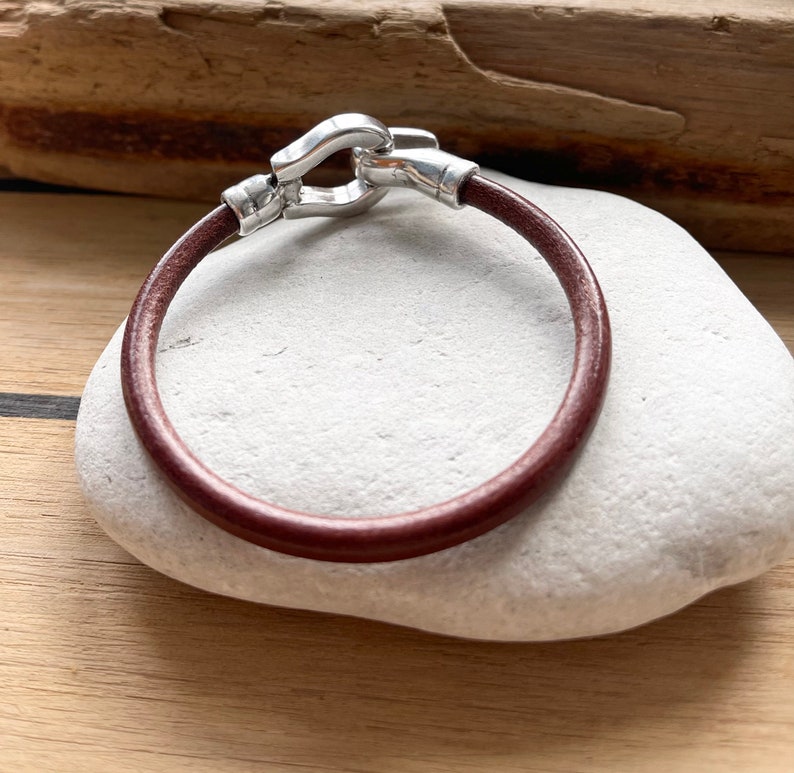 A simple and elegant gift for your equestrian. I really love this bracelet and it will go with tons of different outfits.
It comes with a silver stirrup and you can choose the leather color from over five options including, brown, blue, purple, pink, green, orange, and tan.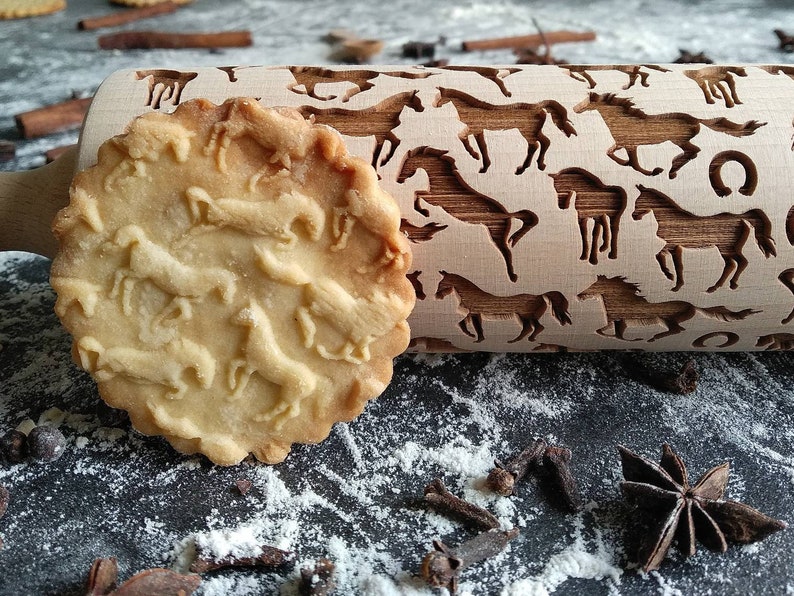 Does your loved one have a passion for horses and baking? If so, they will love this gift! The rolling pin is engraved with horses. It's perfect for making one of kind cookies.
If you like quirky and original, this fits in perfectly.
Every horse rider appreciated a good jacket, preferably more than one as they get dirty so quickly. This jacket is made with ripstop fabric, it's waterproof, and an inner net lining.
Riding tights are all the craze with equestrians. Why not treat your loved one to a high-end brand for Valentine's Day? These riding tights come with a full seat so they aren't slippy. The wideband waist makes them extra comfy.
I love a new handbag, especially if it is horse themed. Take a look at this cute set when looking for horse Valentine's Gifts.
The bag comes in seven different colored leathers and has a horse embroidered on the front. The wallet matches and has its own carry handle if you want to use it separately.
References
1. Raia P. Horse Treats: Handle With Care – The Horse [Internet]. The Horse. 2018 [cited 2019 Oct 12]. Available from: https://thehorse.com/162741/horse-treats-handle-with-care/
2. Horse Riding – How to use the dandy brush [Internet]. www.youtube.com. [cited 2021 Dec 20]. Available from: https://www.youtube.com/watch?v=0B8yap0l98A
What are your favorite Valentine's Day gifts for horse lovers? Let us know in the comments below!